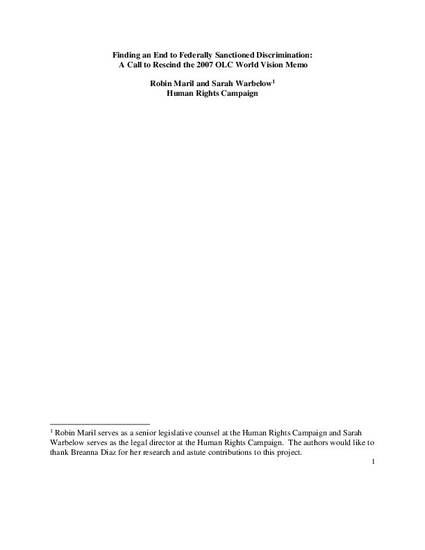 Article
Finding an End to Federally Sanctioned Discrimination: A Call to Rescind the 2007 OLC World Vision Memo
American University Journal of Gender, Social Policy (2016)
Abstract
A series of high profile decisions by the U.S. Supreme Court, such as Burwell v. Hobby Lobby and Obergefell v. Hodges, have highlighted the potential reach and impact of religious exemptions from generally applicable laws. The increased interest in religious exemptions has extended well beyond these landmark Supreme Court cases. It has reverberated through state legislatures and governments and has struck a chord with individual citizens and business owners as the nation struggles to reconcile two core American values – religious liberty and individual civil rights. Although recent events have brought the intersection of these core values into the homes of many Americans for the first time, the need to balance potentially competing rights is nothing new. The federal government has long been tasked with translating judicial decisions and aspirational values into practical policies. These administrative actions rarely garner the same attention or ire as judicial decisions, but the impact of misconceived federal policies can have longstanding negative consequences on the public they purport to serve.
This paper addresses just such a misconceived federal policy involving the overly expansive interpretation of the Religious Freedom Restoration Act (RFRA). In 2007 the Department of Justice (DOJ), Office of Legal Counsel (OLC), issued a controversial memorandum that exempted a religious organization receiving a DOJ grant to operate a public and secular program from a longstanding nondiscrimination requirement. This 2007 OLC memorandum institutionalized a tolerance for taxpayer-funded discrimination that undermines some of the most fundamental civil rights victories of the past decade – particularly for the lesbian, gay, bisexual, and transgender (LGBT) community. Despite President Obama's 2008 campaign promise to rescind the OLC memorandum, the Obama administration has continued to apply this flawed logic throughout federal grant programs, thereby allowing for discrimination against employees by federal grantees to continue.
This paper argues that DOJ should formally rescind the 2007 OLC memorandum and discontinue this policy for two reasons. First, DOJ applied the wrong legal standards that were in place in 2007 when it adopted an overly expansive interpretation of RFRA. Second, religious liberty law has evolved over the intervening years in a way that directly contradicts the DOJ's legal analysis.
Keywords
employment discrimination,
state-sanctioned discrimination,
gender identity,
sexual orientation,
religious freedom restoration act,
lgbt,
discrimination,
religious liberties,
civil rights,
individual rights
Citation Information
Robin Maril and Sarah Warbelow. "Finding an End to Federally Sanctioned Discrimination: A Call to Rescind the 2007 OLC World Vision Memo"
American University Journal of Gender, Social Policy
(2016)
Available at: http://works.bepress.com/robin_maril/2/