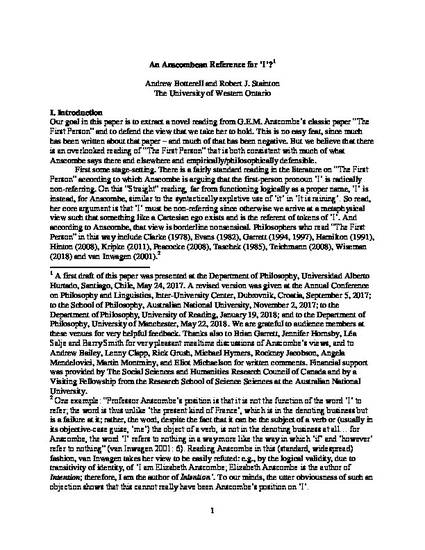 Article
An Ascombean Reference for 'I'?
Croation Journal of Philosophy (2019)
Abstract
Our goal in this paper is to extract a novel reading from G.E.M. Anscombe's classic paper "The First Person" and to defend the view that we take her to hold. This is no easy feat, since much has been written about that paper – and much of that has been negative. But we believe that there is an overlooked reading of "The First Person" that is both consistent with much of what Anscombe says there and elsewhere and empirically/philosophically defensible. 
Keywords
Elizabeth Anscombe,
'I',
The first person,
Radical non-referring view
Citation Information
Andrew Botterell and Robert J. Stainton. "An Ascombean Reference for 'I'?"
Croation Journal of Philosophy
(2019)
Available at: http://works.bepress.com/robertstainton/141/