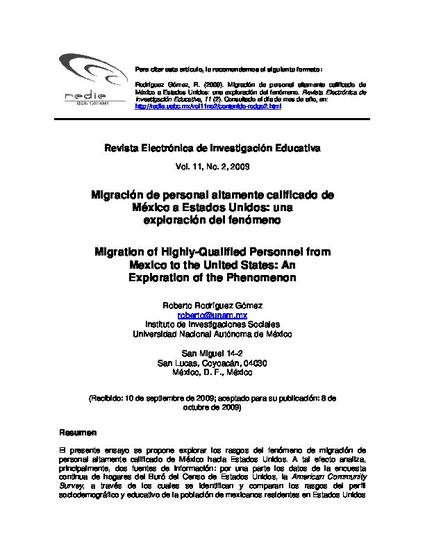 Article
Migración de personal altamente calificado de México a Estados Unidos: una exploración del fenómeno
Revista Electrónica de Investigación Educativa (2009)
Abstract
This essay proposes to explore the features of the migration phenomenon of highlyqualified personnel from Mexico to the United States. To this end it analyzes, principally, two sources of information: first, data from the U.S. Census Bureau's ongoing survey of households, the American Community Survey. This data identifies the features of the sociodemographic and educational profile of Mexicans residing in the United States of America, and compares it with the data for the native population and for the subset of foreign, non-Mexican residents in that country. Work with survey microdata makes it possible to provide accurate figures for population volume in various relevant categories: schooling, occupation and income. By observing these data we attempt to learn the conditions of the most highly-educated group within the contingent of Mexican migrants. The second source of information, which permits a view from a complementary angle, is derived from the statistics contained in temporary-resident visas obtained by Mexicans. This part of the text studies the particular action of three types of visas: H1B work permits for highly qualified personnel; TN visas, granted to professionals within the framework of the North American Free Trade Agreement (NAFTA); and finally, the F and J visas, issued to students and scholars. Using the results of both approaches, we review the scale and significance of the migration of highly-skilled human resources from Mexico to the United States.
Citation Information
Roberto Rodríguez-Gómez. "Migración de personal altamente calificado de México a Estados Unidos: una exploración del fenómeno"
Revista Electrónica de Investigación Educativa
Vol. 11 Iss. 2 (2009)
Available at: http://works.bepress.com/roberto_rodriguez/3/