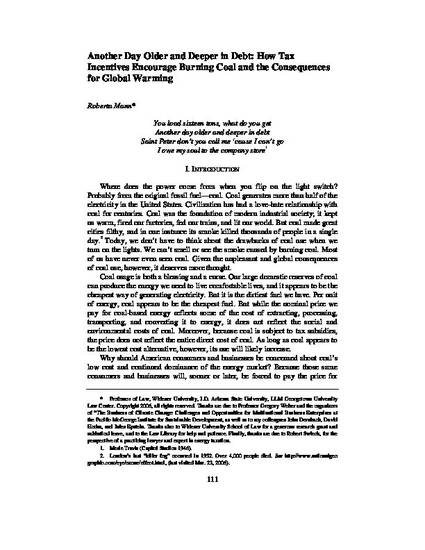 Article
Another Day Older and Deeper in Debt: How Tax Incentives Encourage Burning Coal and the Consequences for Global Warming
Pacific McGeorge Global Business & Development Journal (2007)
Abstract
Coal generates more than half of the electricity in the United States. Civilization has had a love-hate relationship with coal for centuries. Coal usage is both a blessing and a curse. Per unit of energy, coal appears to be the cheapest fuel. But while the nominal price we pay for coal-based energy reflects some of the cost of extracting, processing, transporting, and converting it to energy, it does not reflect the social and environmental costs of coal. Moreover, because coal is subject to tax subsidies, the price does not reflect the entire direct cost of coal. As long as coal appears to be the lowest cost alternative, however, its use will likely increase. Coal's current low price is made possible by borrowing from the future. Society is not paying for a large portion of coal's costs. We are, indeed, another day older and deeper in debt. This article argues that choosing coal as the primary fuel to generate electricity constitutes a market failure. Tax policy can be used as a tool to correct market failure, but, in coal's case, tax policy exacerbates market failure by providing subsidies. This article will address the social and environmental costs of coal, including miners' health and safety, and pollution effects such as acid precipitation, mercury emissions, particulate emissions, and greenhouse gas emissions. Then, this article will explore the tax treatment of coal, including the theoretical basis for coal depletion, exploration and development costs, reclamation costs, and the credit for synthetic fuels. Finally, this article will discuss how tax policy could improve coal use, focusing on how taxes may be used to account for coal's social and environmental costs, and why a carbon tax might be better for business than either ignoring greenhouse gas emissions or implementing a tradable permit system.
Citation Information
Roberta F Mann. "Another Day Older and Deeper in Debt: How Tax Incentives Encourage Burning Coal and the Consequences for Global Warming"
Pacific McGeorge Global Business & Development Journal
Vol. 20 Iss. 1 (2007)
Available at: http://works.bepress.com/roberta_mann/3/