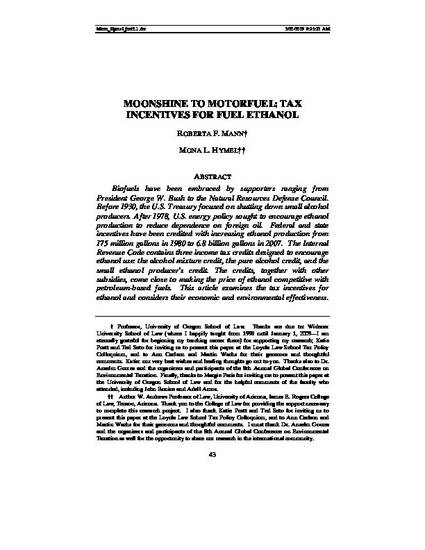 Article
Moonshine to Motorfuel: Tax Incentives for Fuel Ethanol
Duke Environmental Law & Policy Forum (2008)
Abstract
Abstract: Biofuels have been embraced by supporters from President George W. Bush to the Natural Resources Defense Council. Before 1930, the U.S. Treasury focused on shutting down small alcohol producers. After 1978, U.S. energy policy sought to encourage ethanol production to reduce dependence on foreign oil. Federal and state incentives have been credited with increasing ethanol production from 175 million gallons in 1980 to 3.9 billion gallons in 2005. The Internal Revenue Code contains three income tax credits designed to encourage ethanol use: the alcohol mixture credit, the pure alcohol credit, and the small ethanol producer's credit. The credits, together with other subsidies, come close to making ethanol price competitive with petroleum based fuels. In our article, we will examine the tax incentives for ethanol, considering their economic and environmental effectiveness. In theory, ethanol could reduce dependence on foreign oil and greenhouse gas emissions from transport. In practice, the environmental benefits of ethanol are in doubt. Using the tax system to encourage conservation and discourage driving may be a better way to reduce greenhouse gases and oil dependency.
Keywords
taxation,
environment,
ethanol,
tax incentives
Citation Information
Roberta F Mann and Mona L Hymel. "Moonshine to Motorfuel: Tax Incentives for Fuel Ethanol"
Duke Environmental Law & Policy Forum
Vol. 18 (2008)
Available at: http://works.bepress.com/roberta_mann/1/