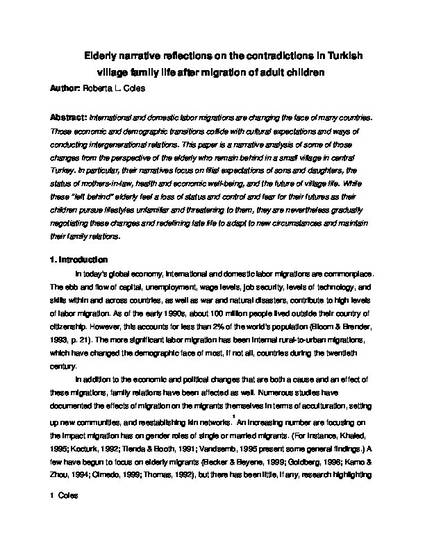 Article
Elderly Narrative Reflections on the Contradictions in Turkish Village Family Life after Migration of Adult Children
Journal of Aging Studies
Publication Date
12-1-2001
Original Item ID
doi: 10.1016/S0890-4065(01)00030-5
Abstract
International and domestic labor migrations are changing the face of many countries. Those economic and demographic transitions collide with cultural expectations and ways of conducting intergenerational relations. This paper is a narrative analysis of some of those changes from the perspective of the elderly who remain behind in a small village in central Turkey. In particular, their narratives focus on filial expectations of sons and daughters, the status of mothers-in-law, health and economic well-being, and the future of village life. While these "left behind" elderly feel a loss of status and control and fear for their futures as their children pursue lifestyles unfamiliar and threatening to them, they are nevertheless gradually negotiating these changes and redefining late life to adapt to new circumstances and maintain their family relations.
Citation Information
Roberta Coles. "Elderly Narrative Reflections on the Contradictions in Turkish Village Family Life after Migration of Adult Children"
Journal of Aging Studies
(2001) ISSN: 0890-4065
Available at: http://works.bepress.com/roberta_coles/2/