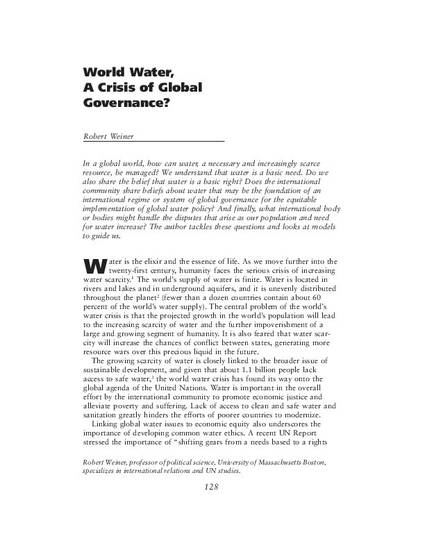 Article
Water. World Water, A Crisis of Global Governance?
New England Journal of Public Policy
Publication Date
7-1-2007
Abstract
In a global world, how can water, a necessary and increasingly scarce resource, be managed? We understand that water is a basic need. Do we also share the belief that water is a basic right? Does the international community share beliefs about water that may be the foundation of an international regime or system of global governance for the equitable implementation of global water policy? And finally, what international body or bodies might handle the disputes that arise as our population and need for water increase? The author tackles these questions and looks at models to guide us.
Citation Information
Robert Weiner. "Water. World Water, A Crisis of Global Governance?" (2007)
Available at: http://works.bepress.com/robert_weiner/3/