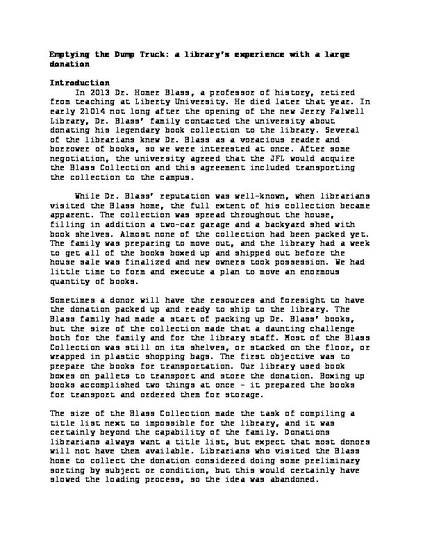 Article
Emptying the Dump Truck: A Library's Experience with A Large Donation
Strategic Library (2016)
Abstract
In 2013 Dr. Homer Blass, a professor of history, retired from teaching at Liberty University. He died later that year. In early 21014 not long after the opening of the new Jerry Falwell Library, Dr. Blass' family contacted the university about donating his legendary book collection to the library. Several of the librarians knew Dr. Blass as a voracious reader and borrower of books, so we were interested at once. After some negotiation, the university agreed that the JFL would acquire the Blass Collection and this agreement included transporting the collection to the campus.
Citation Information
Robert Weaver. "Emptying the Dump Truck: A Library's Experience with A Large Donation"
Strategic Library
(2016)
Available at: http://works.bepress.com/robert_weaver/10/