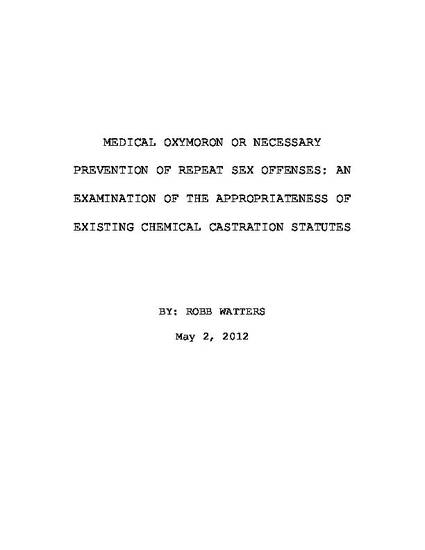 Article
MEDICAL OXYMORON OR NECESSARY PREVENTION OF REPEAT SEX OFFENSES: AN EXAMINATION OF THE APPROPRIATENESS OF EXISTING CHEMICAL CASTRATION STATUTES
Not previously published (2012)
Abstract
The current chemical castration statutes in six states are full of logical constitutional, medical and ethical questions and concerns. The basis for the criticism can be traced to how the schemes were developed compared to the those used in Europe. The castration statutes enacted after long trial and error periods are, therefore, easily discernible from those signed into law quickly as a reaction to some outside event.
Publication Date
Spring May 17, 2012
Citation Information
Robert Watters. "MEDICAL OXYMORON OR NECESSARY PREVENTION OF REPEAT SEX OFFENSES: AN EXAMINATION OF THE APPROPRIATENESS OF EXISTING CHEMICAL CASTRATION STATUTES"
Not previously published
(2012)
Available at: http://works.bepress.com/robert_watters/1/