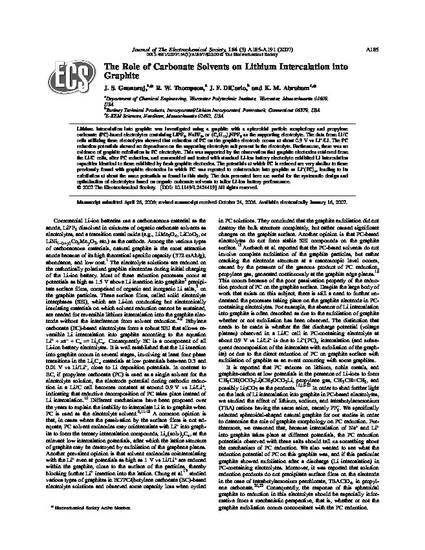 Article
The Role of Carbonate Solvents on Lithium Intercalation into Graphite
Journal of the Electrochemical Society
Publication Date
1-1-2007
Abstract
Lithium intercalation into graphite was investigated using a graphite with a spheroidal particle morphology and propylene carbonate (PC)-based electrolytes containing LiPF6, NaPF6, or (C4H10)4NPF6 as the supporting electrolyte. The data from LiC cells utilizing these electrolytes showed that reduction of PC on the graphite electrode occurs at about 0.9V vs Li+Li. The PC reduction potentials showed no dependence on the supporting electrolyte salt present in the electrolyte. Furthermore, there was no evidence of graphite exfoliation in PC electrolyte. This was supported by the observation that graphite electrodes retrieved from the LiC cells, after PC reduction, and reassembled and tested with standard Li-ion battery electrolyte exhibited Li intercalation capacities identical to those exhibited by fresh graphite electrodes. The potentials at which PC is reduced are very similar to those previously found with graphite electrodes in which PC was reported to cointercalate into graphite as Li+(PC)n, leading to its exfoliation at about the same potentials as found in this study. The data presented here are useful for the systematic design and optimization of electrolytes based on organic carbonate solvents to tailor Li-ion battery performance.
Publisher Statement
© The Electrochemical Society, Inc., 2007. All rights reserved. Except as provided under U.S. copyright law, this work may not be reproduced, resold, distributed, or modified without the express permission of The Electrochemical Society (ECS). The archival version of this work was published in Journal of the Electrochemical Society 154 (3), A185-A191
Citation Information
J. S Gnanaraj, Robert W Thompson, J. F DiCarlo and K. M Abraham. "The Role of Carbonate Solvents on Lithium Intercalation into Graphite"
Journal of the Electrochemical Society
Vol. 154 Iss. 3 (2007) p. A185 - A191
Available at: http://works.bepress.com/robert_w_thompson/5/