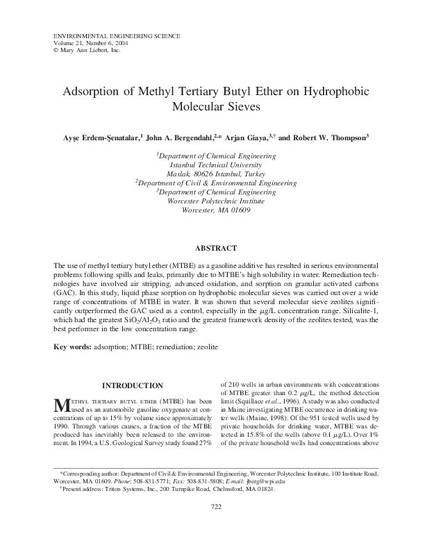 Article
Adsorption of Methyl Tertiary Butyl Ether on Hydrophobic Molecular Sieves
Environmental Engineering Science
Publication Date
11-1-2004
Abstract
The use of methyl tertiary butyl ether (MTBE) as a gasoline additive has resulted in serious environmental problems following spills and leaks, primarily due to MTBE's high solubility in water. Remediation technologies have involved air stripping, advanced oxidation, and sorption on granular activated carbons (GAC). In this study, liquid phase sorption on hydrophobic molecular sieves was carried out over a wide range of concentrations of MTBE in water. It was shown that several molecular sieve zeolites significantly outperformed the GAC used as a control, especially in the µg/L concentration range. Silicalite-1, which had the greatest SiO2/Al2O3 ratio and the greatest framework density of the zeolites tested, was the best performer in the low concentration range.
DOI
10.1089/ees.2004.21.722
Publisher Statement
This is a copy of an article published in Environmental Engineering Science, © 2004, Mary Ann Liebert, Inc. Environmental Engineering Science is available online at: http://online.liebertpub.com.
Citation Information
A. Erdem-Senatalar, J.A. Bergendahl, Arjan Giaya and Robert W Thompson. "Adsorption of Methyl Tertiary Butyl Ether on Hydrophobic Molecular Sieves"
Environmental Engineering Science
Vol. 21 Iss. 6 (2004) p. 722 - 729
Available at: http://works.bepress.com/robert_w_thompson/10/