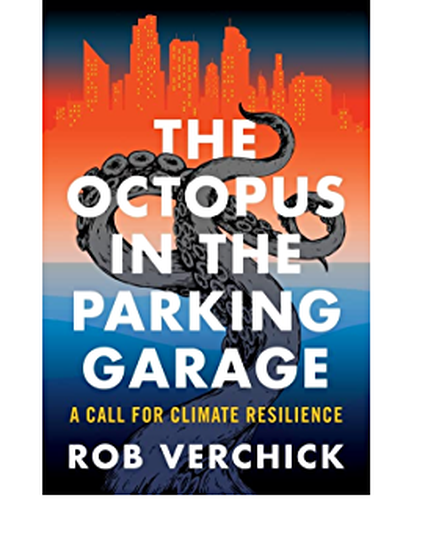 Book
The Octopus in the Parking Garage: A Call for Climate Resilience
(2023)
Abstract
One morning in Miami Beach, an unexpected guest showed up in a luxury condominium complex's parking garage: an octopus. The image quickly went viral. But the octopus―and the combination of infrastructure quirks and climate impacts that left it stranded―is more than a funny meme. It's a potent symbol of the disruptions that a changing climate has already brought to our doorsteps and the ways we will have to adjust.
Rob Verchick examines how we can manage the risks that we can no longer avoid, laying out our options as we face climate breakdown. Although reducing carbon dioxide emissions is essential, we need to adapt to address the damage we have already caused. Verchick explores what resilience looks like on the ground, from early humans on the savannas to today's shop owners and city planners. He takes the reader on a journey into the field: paddling through Louisiana's bayous, hiking in one of the last refuges of Joshua trees in the Mojave Desert, and diving off Key Largo with citizen scientists working to restore coral reefs. The book emphasizes disadvantaged communities, which bear the brunt of environmental risk, arguing that building climate resilience is a necessary step toward justice.
Engaging and accessible for nonexpert concerned citizens, The Octopus in the Parking Garage empowers readers to face the climate crisis and shows what we can do to adapt and thrive.
Keywords
climate change,
climate resilience,
environmental law,
land use,
energy,
social vulnerability,
environmental justice
Publication Date
Spring 2023
Publisher
Columbia University Press
Citation Information
Robert R.M. Verchick. The Octopus in the Parking Garage: A Call for Climate Resilience. New York(2023)
Available at: http://works.bepress.com/robert_verchick/79/