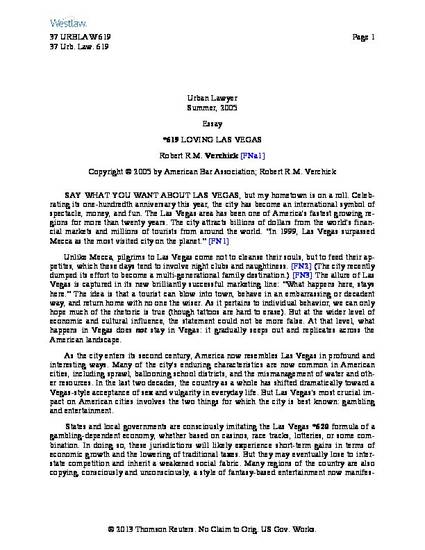 Article
Loving Las Vegas
Urban Lawyer (2005)
Abstract
The allure of Las Vegas is captured in its new brilliantly successful marketing line: "What happens here, stays here." The idea is that a tourist can blow into town, behave in an embarrassing or decadent way, and return home with no one the wiser. As it pertains to individual behavior, we can only hope much of the rhetoric is true (though tattoos are hard to erase). But at the wider level of economic and cultural influence, the statement could not be more false. At that level, what happens in Vegas does not stay in Vegas: it gradually seeps out and replicates across the American landscape. As the city enters its second century, America now resembles Las Vegas in profound and interesting ways. Many of the city's enduring characteristics are now common in American cities, including sprawl, ballooning school districts, and the mismanagement of water and oth- er resources. In the last two decades, the country as a whole has shifted dramatically toward a Vegas-style acceptance of sex and vulgarity in everyday life. But Las Vegas's most crucial im- pact on American cities involves the two things for which the city is best known: gambling and entertainment.
Citation Information
Robert R.M. Verchick. "Loving Las Vegas"
Urban Lawyer
Vol. 37 (2005)
Available at: http://works.bepress.com/robert_verchick/19/