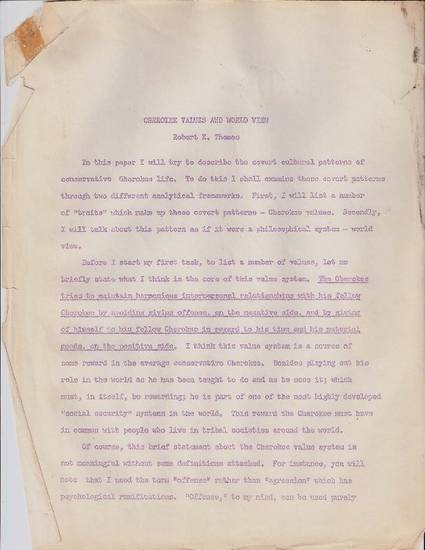 Unpublished Paper
Cherokee Values and World View
Unpublished MS, University of North Carolina (1958)
Abstract
Cherokee Values and World View is one of Thomas' earliest papers. Though unpublished, It has often been cited (Gearing, Gulick, Wax, et. al.). It introduces the value of 'harmony' which Gulick (Cherokees at the Crossroads, 1960), a few years later termed the 'Harmony Ethic' (see Wax, 1971, Indian Americans: Unity and Diversity, p118) citing Gulick via Thomas. Gulick's notes are included at the end of this paper. The Harmony Ethic has since been referred to throughout American Indian Studies. Thomas. In later works, and to a lesser degree in this paper, refers to 'harmony' as something that is valued – but not as an 'ethic'.
Keywords
gadoogi,
harmony,
harmony ethic,
cherokee values,
american indians,
tribals
Citation Information
Robert K. Thomas. "Cherokee Values and World View"
Unpublished MS, University of North Carolina
(1958)
Available at: http://works.bepress.com/robert_thomas/40/