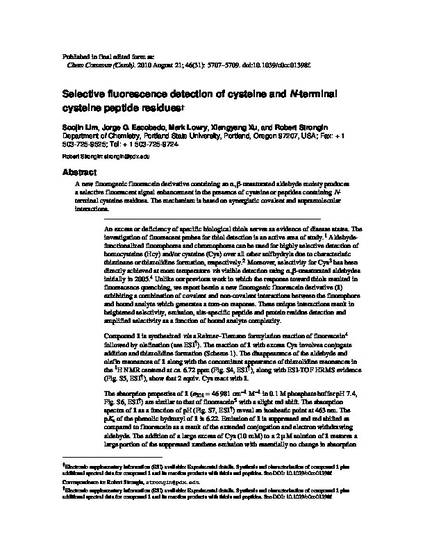 Article
Selective Fluorescence Detection of Cysteine and N-Terminal Cysteine Peptide Residues
Support from the National Institutes of Health via award RO1 EB002044 is gratefully acknowledged
Publication Date
1-1-2010
Subjects
Supramolecular chemistry,
Cysteine -- Detection,
Fluorescent probes
Abstract
A new fluorogenic fluorescein derivative containing an α,β-unsaturated aldehyde moiety produces a selective fluorescent signal enhancement in the presence of cysteine or peptides containing N-terminal cysteine residues. The mechanism is based on synergistic covalent and supramolecular interactions.
Persistent Identifier
http://archives.pdx.edu/ds/psu/11117
Citation Information
Soojin Lim, Jorge O. Escobedo, Mark Lowry, Xiangyang Xu, et al.. "Selective Fluorescence Detection of Cysteine and N-Terminal Cysteine Peptide Residues"
Support from the National Institutes of Health via award RO1 EB002044 is gratefully acknowledged
(2010)
Available at: http://works.bepress.com/robert_strongin/4/