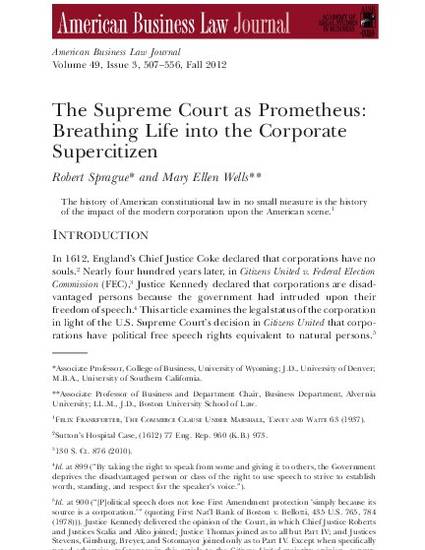 Article
The Supreme Court as Prometheus: Breathing Life into the Corporate Supercitizen
American Business Law Journal (2012)
Abstract
This article examines the legal status of the corporation in light of the U.S. Supreme Court's decision in Citizens United v. Federal Election Commission that corporations have political free speech rights equivalent to natural persons. In Citizens United, Justice Kennedy wrote that corporations were disadvantaged persons because the government had intruded upon their freedom of speech. The Citizens United majority portrays a misleading image of corporations. It is true most corporations are owned by small groups of individuals, managed by their owners, and limited in size and revenues. But what the Citizens United majority conveniently ignores is one particular attribute which has existed for at least one hundred years — that exceptionally large corporations, controlled by a handful of individuals, have amassed great quantities of wealth and power which dwarf the resources of the individual electorate, as well as the corporations' own minority shareholders, ultimately diluting individuals' political voice. We conclude that with its newly acquired constitutional rights, the corporation is perhaps now ready to dominate not just commerce, but the political system as well.
Keywords
corporations,
free speech,
Citizens United
Citation Information
Robert Sprague and Mary Ellen Wells. "The Supreme Court as Prometheus: Breathing Life into the Corporate Supercitizen"
American Business Law Journal
Vol. 49 Iss. 3 (2012)
Available at: http://works.bepress.com/robert_sprague/5/