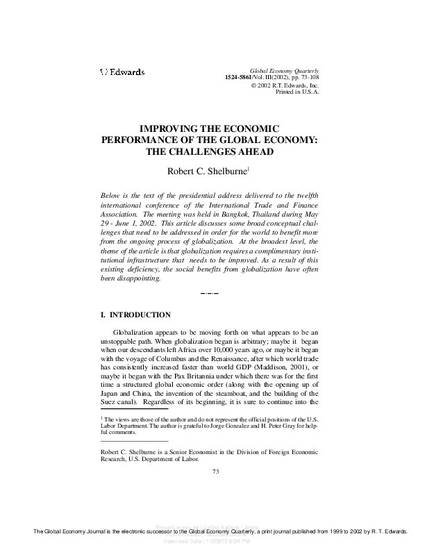 Article
Improving the Performance of the Global Economy: The Challenges Ahead
The Global Economy Journal (2002)
Abstract
This paper was presented as the Presidential Address to the International Trade and Finance Association at their annual meeting in Bangkok, Thailand in 2002. The basic theme is that a well-functioning market economic system requires a complex set of accompanying institutuions. A global economic system requires some institutions of global scope, and domestic institutions appropriately adjusted for the international dimension. The failure to appreciate the need for this complementary institutional infrastructure explains to a significant degree the large variation in economic outcomes that countries have experienced from globalization and has reduced the overall economic performance of the world economy. This absence of appropriate institutions, instead of globalization in the abstract, also explains why there is so much populist opposition to the current global economic system. The economic benefits from increased openness have been disappointing for many of the developing nations because they lack the appropriate complementary institutions. The current international financial system is inherently unstable and requires an IMF with significantly more resources so that it can act as a global lender of last resort. The global distribution of income, although probably not worsened by globalization, nevertheless presents the world with a number of moral and economic challenges. The distributional shifts from increased openness in the United States are so large that the benefits from further globalization can be seriously questioned. Institutions of global scope are needed to deal with an increasing number of common property and public goods problems; a more comprehensive and pro-active approach towards global goverance is needed. The push to establish universal standards, whether they be for products or labor are eroding nations' ability to achieve their idiosyncratic interests.
Publication Date
June, 2002
Citation Information
Robert C. Shelburne. "Improving the Performance of the Global Economy: The Challenges Ahead"
The Global Economy Journal
Vol. 3 Iss. 2 (2002)
Available at: http://works.bepress.com/robert_shelburne/9/