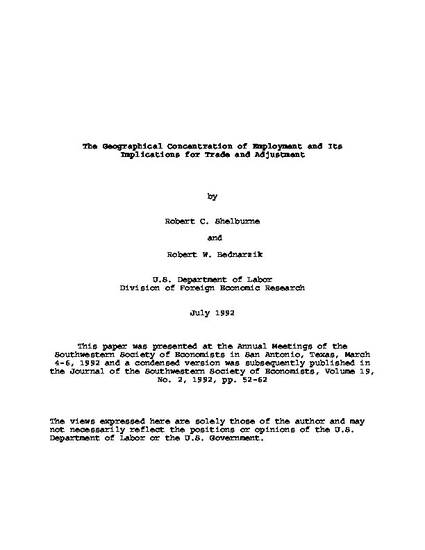 Article
The Geographical Concentration of Employment and Its Implications for Trade and Adjustment
Journal of the Southwestern Society of Economists (1992)
Abstract
This paper examines the geographical concentration of employment by detailed industrial categories by state using a Department of Labor dataset not available to the public. It discusses the theoretical reasons for geographical concentration, and provides detailed Gini coefficients for both 3 and 4 digit SIC categories. It discusses how concentration varies by type of industry, and by the intensity to which the industry either exports or imports. Its provides information on the location of industries intensively involved with trade. This information in then used to assess the possible adjustment pressures that might result from NAFTA. A condensed version of this working paper was subsequently published in the Journal of the Southwestern Society of Economist.
Keywords
Geographical concentration,
gini,
concentration,
trade adjustment
Publication Date
June, 1992
Citation Information
Robert C. Shelburne and Robert W. Bednarzik. "The Geographical Concentration of Employment and Its Implications for Trade and Adjustment"
Journal of the Southwestern Society of Economists
Vol. 19 Iss. 2 (1992)
Available at: http://works.bepress.com/robert_shelburne/35/