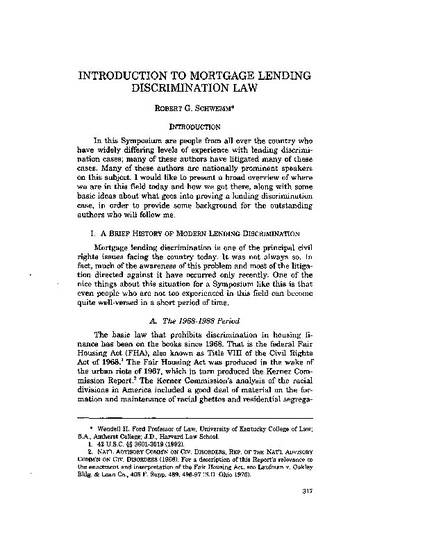 Article
Introduction to Mortgage Lending Discrimination Law
Law Faculty Scholarly Articles
Abstract
Although mortgage lending discrimination and the laws that forbid it have been a part of the American landscape for over two decades, it has only been in recent years that this subject has captured the attention of the public, Congress, and federal enforcement officials. The result has been a tremendous upsurge in interest in this field. Still, there are relatively few cases that have been litigated to a conclusion on the merits, and fewer still that have resulted in plaintiff's victories. Thus, we find ourselves in an exciting period of great potential, but as yet not fully realized accomplishment, as far as lending litigation is concerned. This Symposium will provide one more building block for what could well be some major breakthroughs in the enforcement of the fair lending laws in the upcoming years.
Publication Date
1-1-1995
Citation Information
Robert G. Schwemm,
Introduction to Mortgage Lending Discrimination Law
, 28 J. Marshall L. Rev. 317 (1995).