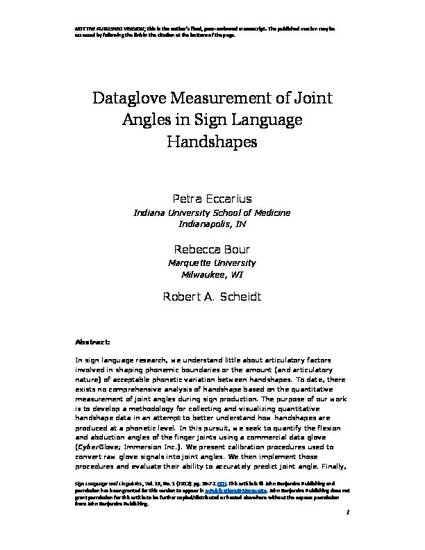 Article
Dataglove Measurement of Joint Angles in Sign Language Handshapes
Sign Language and Linguistics
Publication Date
1-1-2012
Publisher
John Benjamins Publishing
Original Item ID
doi: 10.1075/sll.15.1.03ecc; PubMed Central: PMCID 3758436
Abstract
In sign language research, we understand little about articulatory factors involved in shaping phonemic boundaries or the amount (and articulatory nature) of acceptable phonetic variation between handshapes. To date, there exists no comprehensive analysis of handshape based on the quantitative measurement of joint angles during sign production. The purpose of our work is to develop a methodology for collecting and visualizing quantitative handshape data in an attempt to better understand how handshapes are produced at a phonetic level. In this pursuit, we seek to quantify the flexion and abduction angles of the finger joints using a commercial data glove (CyberGlove; Immersion Inc.). We present calibration procedures used to convert raw glove signals into joint angles. We then implement those procedures and evaluate their ability to accurately predict joint angle. Finally, we provide examples of how our recording techniques might inform current research questions.
Citation Information
Petra Eccarius, Rebecca Bour and Robert A. Scheidt. "Dataglove Measurement of Joint Angles in Sign Language Handshapes"
Sign Language and Linguistics
(2012) ISSN: 1387-9316
Available at: http://works.bepress.com/robert_scheidt/39/