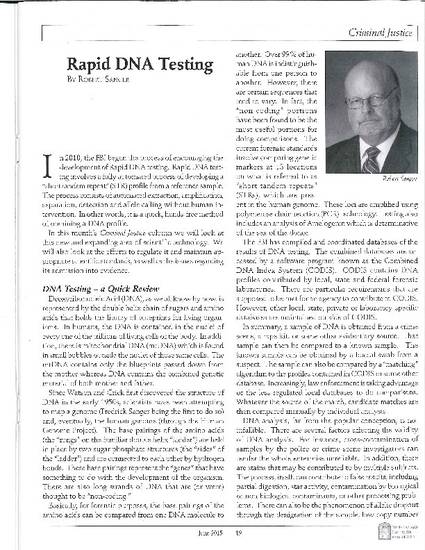 Article
Rapid DNA Testing
Santa Barbara Lawyer Magazine (2015)
Abstract
In 2010, the FBI began the process of encouraging the development of Rapid DNA testing. Rapid DNA testing involves a fully automated process of developing a "short tandem repeat" (STR) profile from a reference sample. The process consists of automated extraction, amplification, separation, detection and allele calling without human intervention. In other words, it is a quick, hands free method of obtaining a DNA profile.
In this article we will look at this new and expanding area of scientific technology. We will also look at the efforts to regulate it and maintain appropriate scientific standards as well as the issues regarding its admission into evidence.
Keywords
DNA,
Rapid DNA,
DNA testing,
DNA analysis
Publication Date
June, 2015
Citation Information
Robert M. Sanger. "Rapid DNA Testing"
Santa Barbara Lawyer Magazine
(2015)
Available at: http://works.bepress.com/robert_sanger/29/