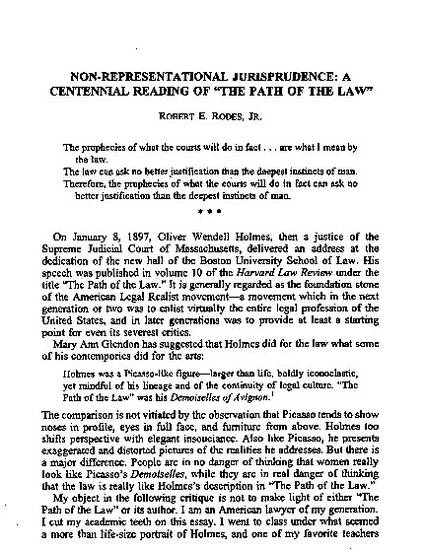 Article
Non-Representational Jurisprudence: A Centennial Reading of "The Path of the Law"
Journal Articles
Publication Date
1-1-1997
Publication Information
42 Am. J. Juris. 263 (1997)
Abstract
This paper analyzes particular passages in Holmes's famous lecture, and notes important inconsistencies and failings in his approach. After arguing strongly that moral considerations should not enter into legal judgments, he criticizes legal judgments in the light of moral considerations. After defining law as a prediction of what the courts will do, he seems to criticize courts for getting the law wrong in their decisions. His advice to learn the legal profession by studying law from the standpoint of a bad man leaves out of account the numerous potential clients who wish to be law abiding citizens and to seal with their associates in accordance with law. The paper recognizes the importance of Holmes's contribution, but suggests regarding it as a set of fragmented views from different standpoints rather than a coherent view of the whole legal system.
Citation Information
Robert E. Rodes. "Non-Representational Jurisprudence: A Centennial Reading of "The Path of the Law"" (1997)
Available at: http://works.bepress.com/robert_rodes/2/