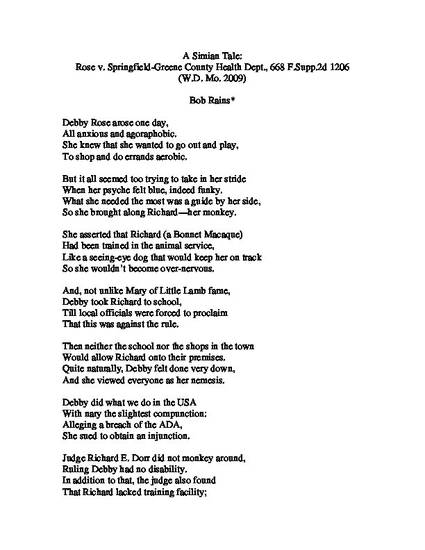 Unpublished Paper
A Simian Tale: Rose v. Springfield-Greene County Health Dept., 668 F.Supp.2d 1206 (W.D. Mo. 2009)
ExpressO (2010)
Abstract
This is a case comment on Rose v. Springfield-Greene County Health Dep't., 668 F. Supp. 2d 1206 (W.D. Mo. 2009). In this Americans with Disabilities Act (ADA) claim, plaintiff asserted the right to be accompanied in public places by her Bonnet Macaque monkey, named Richard. Plaintiff lost on three independent grounds. First, the judge found that she was not disabled within the meaning of the ADA. Second, he found that the monkey was not truly a service animal. Third, even if plaintiff were disabled and the monkey were a service animal, there were legitimate health and safety reasons for not allowing the monkey in places of public accommodation. While the rights of persons with disabilities are a very serious matter and the author has worked for decades to advance those rights, this is not a serious case and does not call for serious analysis. Instead, I have opted to relate this case in verse, and have even attached a still from an old Tarzan movie as a possible illustration (although the ape in that still is, of course, Cheetah, a chimpanzee, not a Bonnet Macaque).
Publication Date
August 27, 2010
Citation Information
Robert E Rains. "A Simian Tale: Rose v. Springfield-Greene County Health Dept., 668 F.Supp.2d 1206 (W.D. Mo. 2009)"
ExpressO
(2010)
Available at: http://works.bepress.com/robert_rains/1/