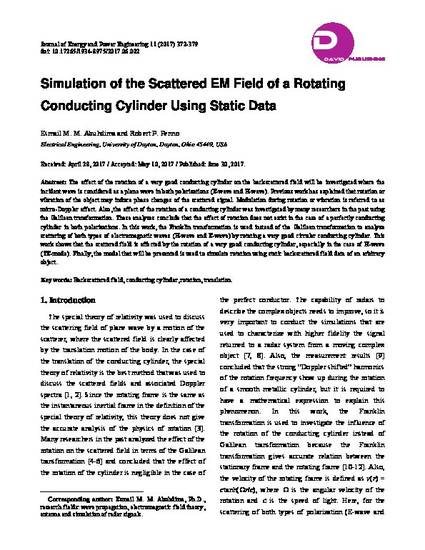 Article
Simulation of the Scattered EM Field of a Rotating Conducting Cylinder Using Static Data
Journal of Energy and Power Engineering
Publication Date
6-30-2017
Abstract
The effect of the rotation of a very good conducting cylinder on the backscattered field will be investigated where the incident wave is considered as a plane wave in both polarizations (E-wave and H-wave). Previous work has explained that rotation or vibration of the object may induce phase changes of the scattered signal. Modulation during rotation or vibration is referred to as micro-Doppler effect. Also, the effect of the rotation of a conducting cylinder was investigated by many researchers in the past using the Galilean transformation. These analyses conclude that the effect of rotation does not exist in the case of a perfectly conducting cylinder in both polarizations. In this work, the Franklin transformation is used instead of the Galilean transformation to analyze scattering of both types of electromagnetic waves (H-wave and E-wave) by rotating a very good circular conducting cylinder. This work shows that the scattered field is affected by the rotation of a very good conducting cylinder, especially in the case of H-wave (TE-mode). Finally, the model that will be presented is used to simulate rotation using static backscattered field data of an arbitrary object.
Document Version
Published Version
Copyright
This work is licensed under a Creative Commons Attribution-NonCommercial 4.0 International License
Publisher
David Publishing
Citation Information
Esmail M. M. Abuhdima and Robert Penno. "Simulation of the Scattered EM Field of a Rotating Conducting Cylinder Using Static Data"
Journal of Energy and Power Engineering
Vol. 11 Iss. 6 (2017)
Available at: http://works.bepress.com/robert_penno/5/