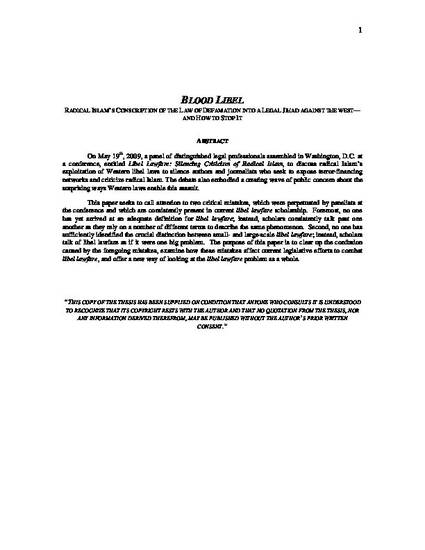 Unpublished Paper
BLOOD LIBEL: RADICAL ISLAM'S CONSCRIPTION OF THE LAW OF DEFAMATION INTO A LEGAL JIHAD AGAINST THE WEST—AND HOW TO STOP IT
ExpressO (2009)
Abstract
On May 19th, 2009, a panel of distinguished legal professionals assembled in Washington, D.C. at a conference, entitled Libel Lawfare: Silencing Criticism of Radical Islam, to discuss radical Islam's exploitation of Western libel laws to silence authors and journalists who seek to expose terror-financing networks and criticize radical Islam. The debate also embodied a cresting wave of public concern about the surprising ways Western laws enable this assault.This paper seeks to call attention to two critical mistakes, which were perpetuated by panelists at the conference and which are consistently present in current libel lawfare scholarship. Foremost, no one has yet arrived at an adequate definition for libel lawfare; instead, scholars consistently talk past one another as they rely on a number of different terms to describe the same phenomenon. Second, no one has sufficiently identified the crucial distinction between small- and large-scale libel lawfare; instead, scholars talk of libel lawfare as if it were one big problem. The purpose of this paper is to clear up the confusion caused by the foregoing mistakes, examine how these mistakes affect current legislative efforts to combat libel lawfare, and offer a new way of looking at the libel lawfare problem as a whole.
Keywords
Terrorism,
First Amendment,
Free Speech,
Legal Jihad,
Islamism,
Defamation,
Religion,
Libel
Publication Date
November 19, 2009
Citation Information
Robert A Pate. "BLOOD LIBEL: RADICAL ISLAM'S CONSCRIPTION OF THE LAW OF DEFAMATION INTO A LEGAL JIHAD AGAINST THE WEST—AND HOW TO STOP IT"
ExpressO
(2009)
Available at: http://works.bepress.com/robert_pate/2/