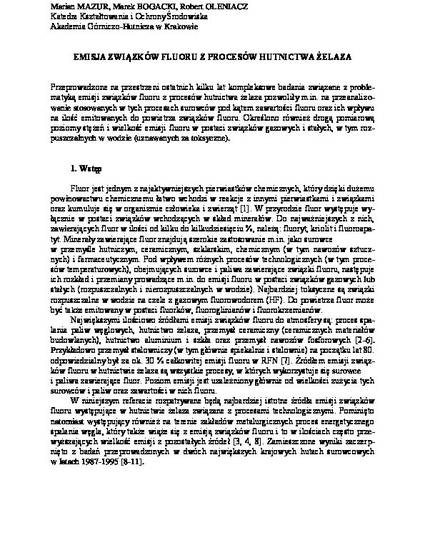 Presentation
Emisja związków fluoru z procesów hutnictwa żelaza
POL-EMIS'98. IV Sympozjum "Ograniczanie emisji zanieczyszczeń do atmosfery". Wyd. PZITS nr 755, pp. 127-136 (1998)
Abstract
The paper presents the results of a comprehensive study of issues related to emissions of fluorine compounds from ferrous metallurgy processes carried out over the last few years. As part of this study raw materials used in these processes were analyzed in terms of fluorine content and its impact on the amount of air emissions of fluorine compounds. Also determined by measuring the concentration levels and emissions of fluorine in the gaseous and solid phase, including water-soluble compounds (considered to be toxic).
English title: Emissions of fluorine compounds from the processes of ferrous metallurgy.
Keywords
iron and steel industry,
metallurgical industry,
Polish steelworks,
air pollutants,
stack emissions,
fluorine compounds,
emission factors
Publication Date
June 1, 1998
Citation Information
Marian Mazur, Marek Bogacki and Robert Oleniacz. "Emisja związków fluoru z procesów hutnictwa żelaza"
POL-EMIS'98. IV Sympozjum "Ograniczanie emisji zanieczyszczeń do atmosfery". Wyd. PZITS nr 755, pp. 127-136
(1998)
Available at: http://works.bepress.com/robert_oleniacz/98/