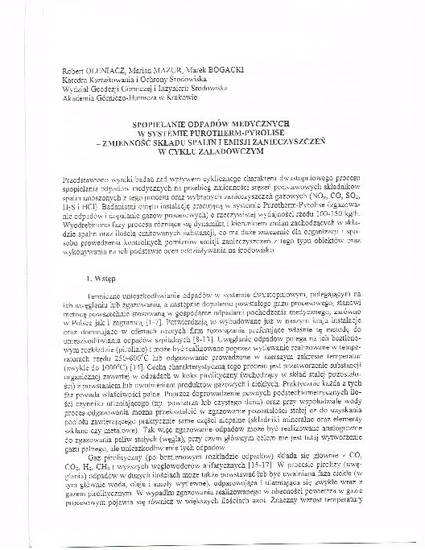 Presentation
Spopielanie odpadów medycznych w systemie Purotherm-Pyrolise – zmienność składu spalin i emisji zanieczyszczeń w cyklu załadowczym
POL-EMIS'2000. V Sympozjum "Ograniczanie emisji zanieczyszczeń do atmosfery". Wyd. PZITS nr 778, pp. 93-104 (2000)
Abstract
The paper presents selected effects of the cyclical nature of the two-stage process of medical waste incineration on the variation of concentrations of basic constituents and selected gaseous pollutants (NOx, CO, SO2, H2S and HCl) in flue gas discharged from the process. The study included the installation working in the Purotherm-Pyrolise system (waste gasification and gas afterburning) with actual yields of 100-150 kg/h. The phases of the process varied in dynamic and direction changes of the flue-gas composition and the levels of air pollutant emissions were separated and described for these phases. They can be very important for the organization and the conduct of periodical control measurements of emissions from such type of incinerators as well as from the point of view of air quality impact assessment carried out on the base of the results of these measurements.
English title: Medical waste incineration in the Purotherm-Pyrolise system - variability of composition of exhaust gases and pollutant emissions in the loading cycle.
Keywords
medical waste,
waste incineration,
waste gasification,
starved-air combustor,
Purotherm-Pyrolise,
flue gas constituents,
air pollutants,
stack concentrations,
stack measurement problems
Publication Date
June 1, 2000
Citation Information
Robert Oleniacz, Marian Mazur and Marek Bogacki. "Spopielanie odpadów medycznych w systemie Purotherm-Pyrolise – zmienność składu spalin i emisji zanieczyszczeń w cyklu załadowczym"
POL-EMIS'2000. V Sympozjum "Ograniczanie emisji zanieczyszczeń do atmosfery". Wyd. PZITS nr 778, pp. 93-104
(2000)
Available at: http://works.bepress.com/robert_oleniacz/97/