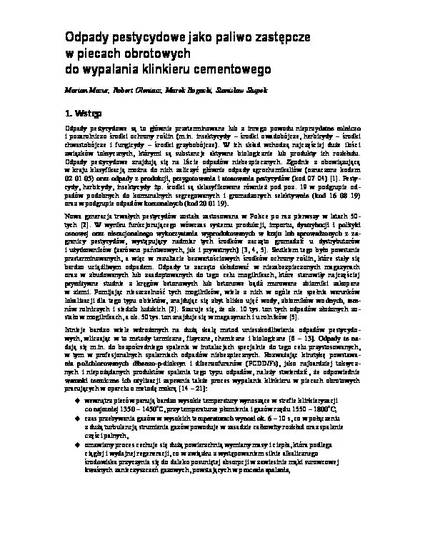 Contribution to Book
Odpady pestycydowe jako paliwo zastępcze w piecach obrotowych do wypalania klinkieru cementowego
Paliwa z odpadów - tom III (2001)
Abstract
The clinker burning plant is ideally suited for processing a wide variety of hazardous waste materials. High temperatures existing in cement kilns (ca. 1350-1450 Centigrades in the burning zone) as well as long gas-residence time (ca. 6-10 s) provide potentially excellent conditions for destruction of toxic organic compounds. Non-volatile compounds are retained in the solid phase and built into the clinker. A lot of other (for example acid gases) can also be absorbed by alkaline solid phase. Old pesticide wastes present a big problem in Poland now. They can be use as waste-derived fuels in cement kilns, especially in the long wet-process rotary kilns. The most popular pesticides used in Poland in the past were identified. For many biological active agents it was possible to determine chemical constitution and their combustion enthalpy. The best ways of the pesticide waste introducing to the cement kiln, other conditions connected with the clinker burning process and the air pollutant emission problems were discussed as well.
English title: Pesticide wastes as secondary fuels for cement clinker burning in rotary kilns.
Keywords
cement industry,
cement kiln,
cement clinker production,
hazardous waste,
pesticide waste,
alternative fuels,
calorific value,
heat of combustion,
waste co-combustion,
co-incineration,
clinker quality,
air pollutants
Publication Date
October 1, 2001
Editor
J.W. Wandrasz, J. Nadziakiewicz
Publisher
Wyd. HELION sp. z o.o.
Citation Information
Marian Mazur, Robert Oleniacz, Marek Bogacki and Stanisław Słupek. "Odpady pestycydowe jako paliwo zastępcze w piecach obrotowych do wypalania klinkieru cementowego" Gliwice
Paliwa z odpadów - tom III
(2001)
Available at: http://works.bepress.com/robert_oleniacz/82/