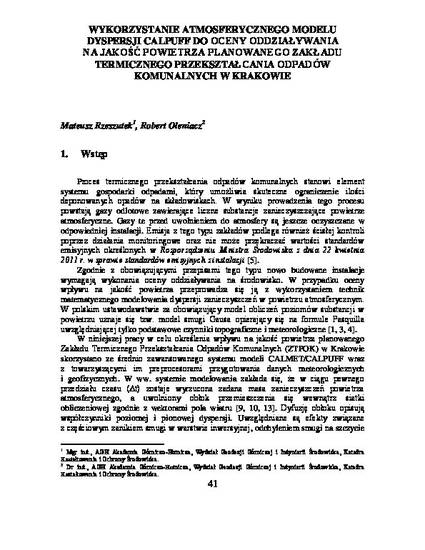 Article
Wykorzystanie atmosferycznego modelu dyspersji Calpuff do oceny oddziaływania na jakość powietrza planowanego Zakładu Termicznego Przekształcania Odpadów Komunalnych w Krakowie
Zeszyty Studenckiego Towarzystwa Naukowego (2014)
Abstract
The aim of this study was to determine the influence of the planned Municipal Waste Thermal Treatment Plant in Krakow on air pollution. Air quality impact assessment was based on the current state of the legal formalities (including emission limit values for waste incineration plants) and the results of the air pollutant atmospheric dispersion modeling for one month period. In this study to calculate of air pollutant dispersion was used model system CALMET/CALPUFF. Using the CALMET model variables in time and space weather condition were calculated. CALPUFF model were performed to computing of propagation of air pollution. Analysis of the obtained results indicated that the planned investment will not cause significant deterioration of air quality in Krakow Agglomeration.
English title: Use of the atmospheric dispersion model CALPUFF to air quality impact assessment of the planned Municipal Waste Thermal Treatment Plant in Krakow.
Keywords
municipal solid waste,
waste incineration,
thermal waste treatment,
new MSWI Plants,
air pollution,
impact assessment,
atmospheric dispersion modeling,
CALMET,
CALPUFF
Publication Date
April, 2014
Citation Information
Mateusz Rzeszutek and Robert Oleniacz. "Wykorzystanie atmosferycznego modelu dyspersji Calpuff do oceny oddziaływania na jakość powietrza planowanego Zakładu Termicznego Przekształcania Odpadów Komunalnych w Krakowie"
Zeszyty Studenckiego Towarzystwa Naukowego
Iss. 29 (2014) p. 41 - 47
Available at: http://works.bepress.com/robert_oleniacz/62/