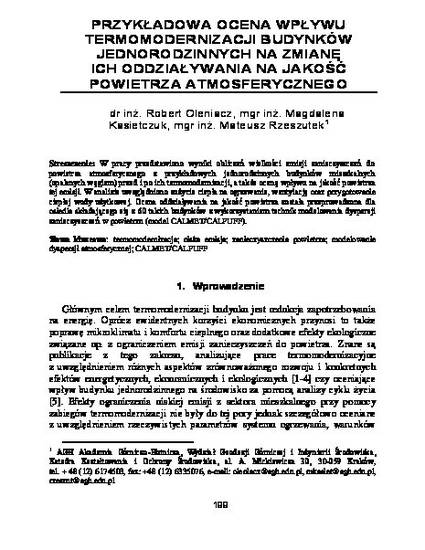 Contribution to Book
Przykładowa ocena wpływu termomodernizacji budynków jednorodzinnych na zmianę ich oddziaływania na jakość powietrza atmosferycznego
INFRAEKO 2014 "Nowoczesne miasta - infrastruktura i środowisko" (2014)
Abstract
The paper presents the results of calculations of pollutant emissions to air from the sample of single-family residential buildings (coal-fired) before and after thermal modernization, as well as an assessment of the impact on air quality of the emissions. The analyzes were included the heat consumption for heating, ventilation and domestic hot water preparation. The assessment of the impact on air quality was carried out for an settlement consisting of 60 such buildings using techniques of modeling of the air pollutant dispersion (CALMET/CALPUFF model).
English title: The example of assessment of ambient air pollution changes resulting from the thermomodernization of single-family buildings.
Keywords
residential building,
thermal renovation,
thermomodernization,
improving energy efficiency,
low-power boiler,
domestic furnaces,
coal combustion,
low emission,
air pollutants,
atmospheric dispersion modeling,
CALMET,
CALPUFF
Editor
J. Dziopak, D. Słyś, A. Stec
Publisher
Oficyna Wydawnicza Politechniki Rzeszowskiej
Citation Information
Robert Oleniacz, Magdalena Kasietczuk and Mateusz Rzeszutek. "Przykładowa ocena wpływu termomodernizacji budynków jednorodzinnych na zmianę ich oddziaływania na jakość powietrza atmosferycznego" Rzeszów - Kraków
INFRAEKO 2014 "Nowoczesne miasta - infrastruktura i środowisko"
(2014) p. 199 - 213
Available at: http://works.bepress.com/robert_oleniacz/50/