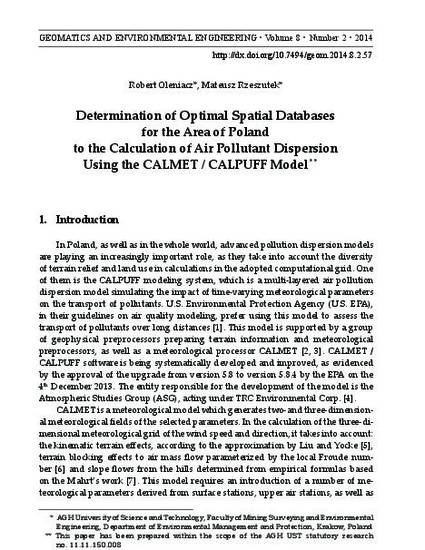 Article
Determination of optimal spatial databases for the area of Poland to the calculation of air pollutant dispersion using the CALMET/CALPUFF model
Geomatics and Environmental Engineering (2014)
Abstract
The paper presents a methodology for the preparation of three-dimensional spatial data and land use data for the purpose of modeling pollutant dispersion in the ambient air using a group of geophysical preprocessors of the CALMET/CALPUFF modeling system and the GIS software. Some space information data sources available to Poland were specified and their characteristics and availability were discussed. Particular attention was turned to the SRTM3 and GTOPO30 elevation data as well as the CLC2006 and GLCC land use data, for the preparation of computational grids of different resolutions. Groups of programs which can be used in order to form computational grids based on the above-mentioned databases were identified. The discussed spatial data preparation procedure was used for the area of the city of Krakow and the surrounding area. As a result of the conducted activities, processed information on the terrain in the adopted computational area, possible to be used in the calculation of a three-dimensional meteorological grid (CALMET) and in the calculation of pollutant dispersion in the ambient air (CALPUFF) was obtained.
Keywords
air pollution,
atmospheric dispersion modeling,
CALMET,
CALPUFF,
spatial database,
land use data,
SRTM3,
GTOPO30,
CLC,
GLCC
Publication Date
June 30, 2014
DOI
10.7494/geom.2014.8.2.57
Citation Information
Robert Oleniacz and Mateusz Rzeszutek. "Determination of optimal spatial databases for the area of Poland to the calculation of air pollutant dispersion using the CALMET/CALPUFF model"
Geomatics and Environmental Engineering
Vol. 8 Iss. 2 (2014) p. 57 - 69 ISSN: 1898-1135
Available at: http://works.bepress.com/robert_oleniacz/46/