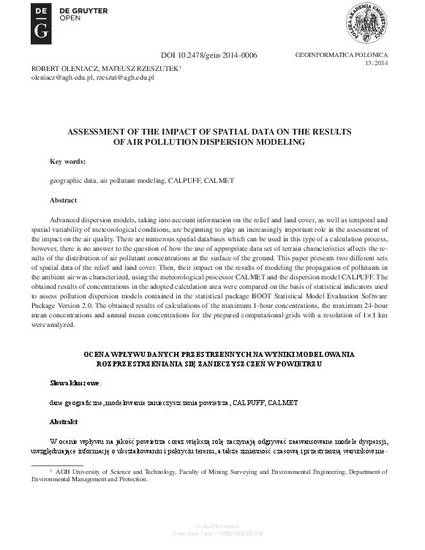 Article
Assessment of the impact of spatial data on the results of air pollution dispersion modeling
Geoinformatica Polonica (2014)
Abstract
Advanced dispersion models, taking into account information on the relief and land cover, as well as temporal and spatial variability of meteorological conditions, are beginning to play an increasingly important role in the assessment of the impact on the air quality. There are numerous spatial databases which can be used in this type of a calculation process, however, there is no answer to the question of how the use of appropriate data set of terrain characteristics affects the results of the distribution of air pollutant concentrations at the surface of the ground. This paper presents two different sets of spatial data of the relief and land cover. Then, their impact on the results of modeling the propagation of pollutants in the ambient air was characterized, using the meteorological processor CALMET and the dispersion model CALPUFF. The obtained results of concentrations in the adopted calculation area were compared on the basis of statistical indicators used to assess pollution dispersion models contained in the statistical package BOOT Statistical Model Evaluation Software Package Version 2.0. The obtained results of calculations of the maximum 1-hour concentrations, the maximum 24-hour mean concentrations and annual mean concentrations for the prepared computational grids with a resolution of 1×1 km were analyzed.
Keywords
spatial data,
geographic data,
atmospheric dispersion modeling,
CALPUFF,
CALMET,
computational grid,
air pollution,
air quality assessment
Publication Date
December 30, 2014
DOI
10.2478/gein-2014-0006
Citation Information
Robert Oleniacz and Mateusz Rzeszutek. "Assessment of the impact of spatial data on the results of air pollution dispersion modeling"
Geoinformatica Polonica
Vol. 13 (2014)
Available at: http://works.bepress.com/robert_oleniacz/45/