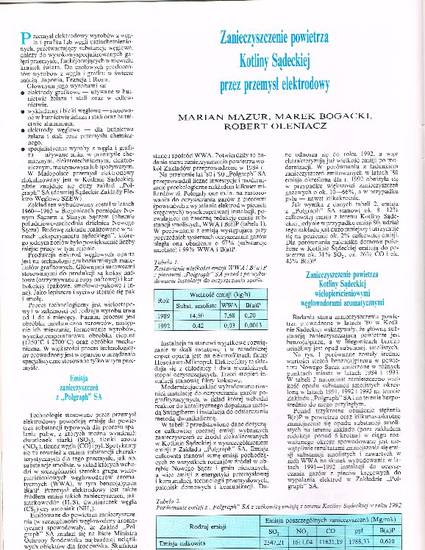 Article
Zanieczyszczenie powietrza Kotliny Sądeckiej przez przemysł elektrodowy
Aura (1996)
Abstract
The article evaluates the impact of electrode industry (production of carbon and graphite electrodes in the plant Polgraph SA) on air quality in the Kotlina Sądecka valley and the city Nowy Sącz (Poland). The work presents completed so far environmental investments and the level of emissions of selected air pollutants characteristic of the analyzed facility, including PAHs emissions. Based on the modeling of the dispersion of pollutants in ambient air was determined the levels of pollutant concentrations in the air and location of most affected areas. The calculation results were compared with the results of direct measurements. Particular attention was paid to the benzo(a)pyrene which is considered a carcinogen. For this substance significant reduction of air concentrations has been shown.
English title: Air pollution in Kotlina Sądecka valley caused by electrode industry.
Keywords
carbon and graphite industry,
carbon and graphite products,
production of graphite electrodes,
air pollution control devices,
air pollutants,
stack emissions,
tar substances,
polycyclic aromatic hydrocarbons,
PAHs,
impact assessment,
atmospheric dispersion modeling,
air pollution,
air quality assessment
Publication Date
February 28, 1996
Citation Information
Marian Mazur, Marek Bogacki and Robert Oleniacz. "Zanieczyszczenie powietrza Kotliny Sądeckiej przez przemysł elektrodowy"
Aura
Iss. 2 (1996)
Available at: http://works.bepress.com/robert_oleniacz/39/