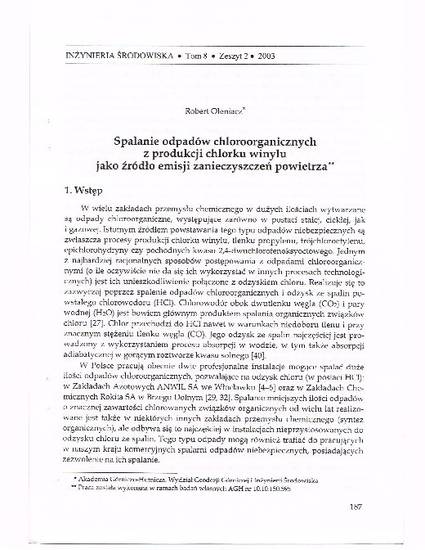 Article
Spalanie odpadów chloroorganicznych z produkcji chlorku winylu jako źródło emisji zanieczyszczeń powietrza
Inżynieria Środowiska (2003)
Abstract
Production of vinyl chloride is a source of formation of significant gaseous, liquid and solid streams of chlorinated organic wastes containing up to 90 % of chlorine. One of the methods of chlorine recovery from the wastes is incineration. During the waste incineration chlorine released into the flue gases mainly in the form of hydrogen chloride (HCl). The article presents, among others, results of continuous and periodic measurement of concentrations of air pollutants in combustion gases emitted from one of the industrial installations for high-temperature incineration of chlorinated wastes, equipped with effective flue-gas treatment system and recovery of HCl. Data analysis showed that pollutant concentrations in flue gases not exceeded the applicable emission limit values (including HCl and dioxins and furans), and a lot of air pollutants are emitted in very small quantities. High-temperature incineration of chlorinated waste does not cause the formation of significant amounts of nitrogen oxides. This is due to the fact that combustion process is carried out with low excess air and the presence of large quantities of chlorine in the combustion chamber.
English title: Incineration of chlorinated organic waste from vinyl chloride production as a source of the air pollutant emissions.
Keywords
chemical industry,
vinyl chloride production,
chlorinated organic waste,
high-temperature incineration,
full-scale incinerator,
liquid injection incinerator,
Vicarb technology,
hydrogen chloride,
HCl recovery system,
NOx formation inhibition,
stack emissions
Citation Information
Robert Oleniacz. "Spalanie odpadów chloroorganicznych z produkcji chlorku winylu jako źródło emisji zanieczyszczeń powietrza"
Inżynieria Środowiska
Vol. 8 Iss. 2 (2003)
Available at: http://works.bepress.com/robert_oleniacz/25/