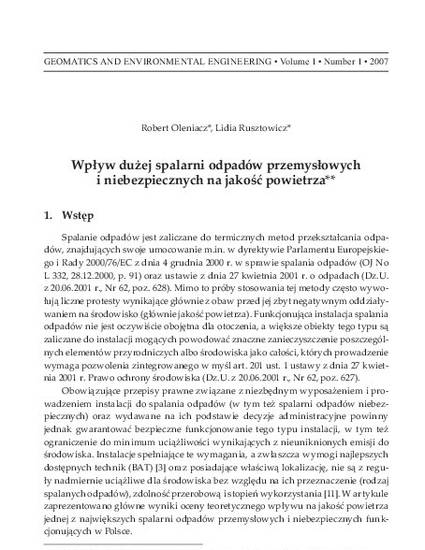 Article
Wpływ dużej spalarni odpadów przemysłowych i niebezpiecznych na jakość powietrza
Geomatics and Environmental Engineering (2007)
Abstract
Waste incineration causes unavoidable pollutant emissions to atmosphere and thus negative impact on air quality, but scale of the influence is often exaggerated. In the paper computation results of the atmospheric dispersion of pollutants were presented for one of the largest industrial and hazardous waste incineration plant existing in Poland (processing capacity: 3 ton per hour). These results confirm the fact that the incinerator meets the requirements of best available techniques (BAT) for the waste incineration and its impact on air quality is relatively small. This effect is caused mainly by proper operation of the rotary kiln incinerator, high efficiency of the flue gas treatment system and very low air pollutant emissions (far less then the emission limit values).
English title: Impact of a large industrial and hazardous waste incinerator on air quality.
Keywords
industrial and hazardous waste,
waste incineration,
full-scale incinerator,
rotary kiln incinerator,
stack emissions,
air pollutants,
air pollution,
atmospheric dispersion modeling,
impact assessment
Citation Information
Robert Oleniacz and Lidia Rusztowicz. "Wpływ dużej spalarni odpadów przemysłowych i niebezpiecznych na jakość powietrza"
Geomatics and Environmental Engineering
Vol. 1 Iss. 1 (2007)
Available at: http://works.bepress.com/robert_oleniacz/22/