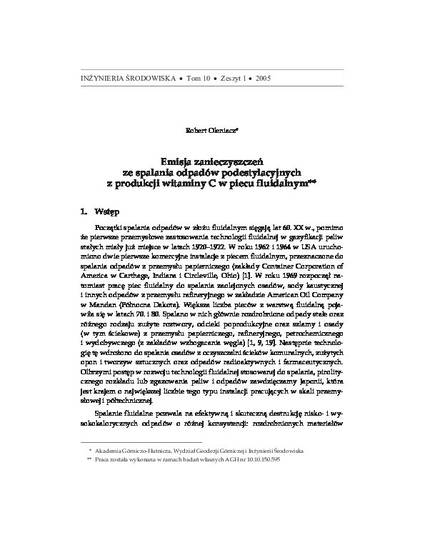 Article
Emisja zanieczyszczeń ze spalania odpadów podestylacyjnych z produkcji witaminy C w piecu fluidalnym
Inżynieria Środowiska (2005)
Abstract
Some results of continuous or periodical measurements of selected air pollutant concentrations and mass streams in the flue gases from liquid waste incineration in a fluidized bed incinerator were presented in the paper. During the researches distillation tails from vitamin C production, that is waste traces from regeneration such solvents as for example ethylene chloride, chloroform or trichloroethylene were incinerated. As a result of the researches there was determined optimal temperature of the fluidized bad in which the waste incineration should be carried out to minimization of CO and NOx formation. Required effectiveness of HCl removal from combustion gases to comply with the emission limit values was presented as well. Applied in the installation alkaline fluidized absorbers working on the parallel arrangement were not sufficient to achieve it.
English title: Air pollutant emissions from incineration of distillation waste from vitamin C production in a fluidized bed incinerator.
Keywords
fluidized bed incinerator,
residues from vitamin C production,
waste incineration,
air pollutants,
stack emissions,
emission factors
Citation Information
Robert Oleniacz. "Emisja zanieczyszczeń ze spalania odpadów podestylacyjnych z produkcji witaminy C w piecu fluidalnym"
Inżynieria Środowiska
Vol. 10 Iss. 1 (2005)
Available at: http://works.bepress.com/robert_oleniacz/17/