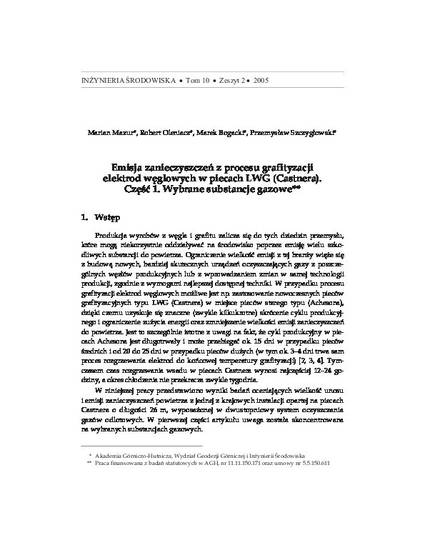 Article
Emisja zanieczyszczeń z procesu grafityzacji elektrod węglowych w piecach LWG (Castnera). Cz. 1. Wybrane substancje gazowe
Inżynieria Środowiska (2005)
Abstract
The results of measurements of quantity pollutants originated and emitted to air from LWG (Castner) furnaces were introduced. The investigation was carried out during the graphitisation process of coal electrodes, until moment of end of ventilation the stove across applied installations of cleaning of cool gases (catalytic burning and the wet desulphurization). The measurement results of CO, CO2, HC+H2, SO2, H2S, CS2, NO, NO2, NH3 as well as chosen hydrocarbons (C1-C6) and aromatic hydrocarbons (BTX) were presented. In result of conducted investigations was qualified courses of changeability of concentrations in gases these substances before and for the cleaning system. The effectiveness of the substance removing from exhaust gases was estimated as well as range of occurrence of their maximum release. The additional investigations of catalytic burning showed, that this process causes the formation of the additional quantities of benzene.
English title: Air pollutant emissions from graphitisation process of coal electrodes in the LWG (Castner) furnaces. Part 1. Selected gaseous substances.
Keywords
carbon and graphite industry,
carbon and graphite products,
graphitisation,
LWG,
Castner furnace,
gaseous substances,
stack emissions,
emission factors
Citation Information
Marian Mazur, Robert Oleniacz, Marek Bogacki and Przemysław Szczygłowski. "Emisja zanieczyszczeń z procesu grafityzacji elektrod węglowych w piecach LWG (Castnera). Cz. 1. Wybrane substancje gazowe"
Inżynieria Środowiska
Vol. 10 Iss. 2 (2005)
Available at: http://works.bepress.com/robert_oleniacz/16/