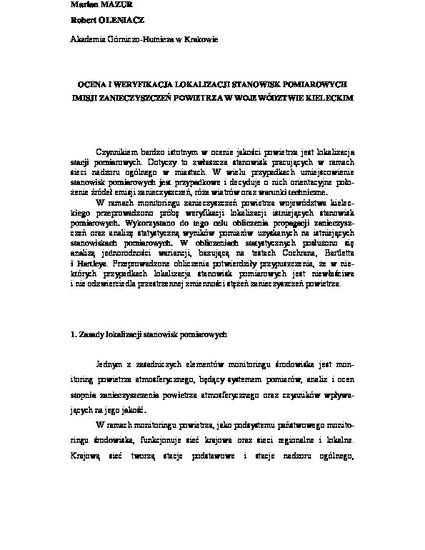 Presentation
Ocena i weryfikacja lokalizacji stanowisk pomiarowych imisji zanieczyszczeń powietrza w województwie kieleckim
I Sympozjum POL-IMIS'95 "Ocena wielkości imisji zanieczyszczeń powietrza", Wyd. PZITS nr 702, pp. 53-66 (1995)
Abstract
The paper presents the implementation of air pollution monitoring in the province of Kielce (Poland), associated with verification of the location and the measuring range of points to measure the concentrations of air pollutants. For this purpose were used calculations of the pollutants dispersion and statistical analysis of measurement results obtained on existing measuring stations. In the statistical calculations were used analysis of variance homogeneity, based on Cochran, Bartlett and Hartley tests. As a result of analysis and calculations, it was found that the original location is not always correct and does not reflect the spatial differentiation of pollutant concentrations.
English title: Evaluation and verification of location of air pollution measuring stations in the region of Kielce.
Keywords
air pollutants,
air emissions,
air pollution,
air quality assessment,
air quality monitoring,
air pollution monitoring,
monitoring system,
air quality management
Publication Date
June 1, 1995
Citation Information
Marian Mazur and Robert Oleniacz. "Ocena i weryfikacja lokalizacji stanowisk pomiarowych imisji zanieczyszczeń powietrza w województwie kieleckim"
I Sympozjum POL-IMIS'95 "Ocena wielkości imisji zanieczyszczeń powietrza", Wyd. PZITS nr 702, pp. 53-66
(1995)
Available at: http://works.bepress.com/robert_oleniacz/128/