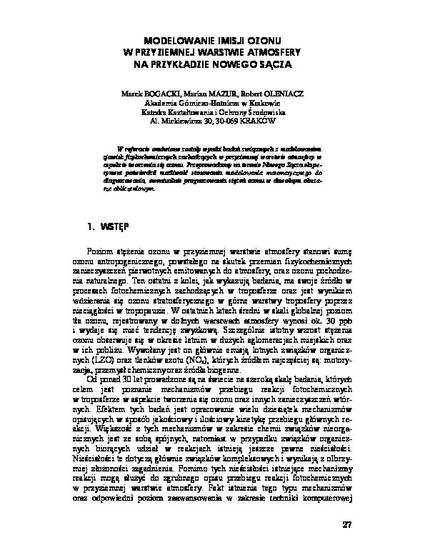 Presentation
Modelowanie imisji ozonu w przyziemnej warstwie atmosfery na przykładzie Nowego Sącza
III Konferencja "Problemy ochrony powietrza w aglomeracjach miejsko-przemysłowych", pp. 27-36 (1998)
Abstract
The paper presents the results of research related to the modeling of physicochemical phenomena occurring in the ground-layer of the atmosphere in terms of ozone formation. For this purpose, the box model was used, in which the computational area is defined as a space designated by a steady surface and a variable height. Conducted in Nowy Sącz (Poland) experiment confirmed the possibility of using this type of model to diagnose and possibly forecasting ozone concentrations in any area of ​​calculation. The study also showed that the quality of the results depends mainly on accuracy in preparing of input data, especially in terms of air pollutant emissions and meteorological parameters.
English title: Ozone immission modeling in the ground-level layer of the atmosphere: a case study of Nowy Sacz.
Keywords
troposferic ozone,
air pollution modeling,
box model,
air quality assessment,
Nowy Sącz (Poland)
Publication Date
September 1, 1998
Citation Information
Marek Bogacki, Marian Mazur and Robert Oleniacz. "Modelowanie imisji ozonu w przyziemnej warstwie atmosfery na przykładzie Nowego Sącza"
III Konferencja "Problemy ochrony powietrza w aglomeracjach miejsko-przemysłowych", pp. 27-36
(1998)
Available at: http://works.bepress.com/robert_oleniacz/115/