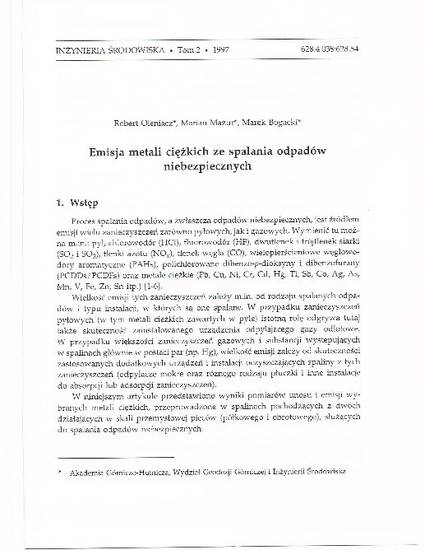 Article
Emisja metali ciężkich ze spalania odpadów niebezpiecznych
Inżynieria Środowiska (1997)
Abstract
The paper presents the results of measurements of air emissions of heavy metals from hazardous waste incineration in a multiple hearth furnace and a rotary kiln incinerator equipped with a single wet flue gas cleaning systems. In the multiple hearth furnace an industrial sewage sludge (from coke industry) was being incinerated. In the rotary kiln such wastes were being incinerated as: waste paints, varnish and lubricant, coal tars waste, contaminated cleaning rags, sawdust and used gloves, waste resins and plastics, rubber waste, outdated pharmaceuticals and medicines, and hospital waste. The research allowed us to determine the levels of pollutant concentrations in flue gas depending on the type of waste incinerated, the load of furnaces and the thermal conditions. The data of effectiveness of the alkaline scrubbers used for the flue gas cleaning were also obtained.
English title: Heavy metal emissions from hazardous waste incineration.
Keywords
hazardous waste,
waste incineration,
full-scale incinerators,
rotary kiln,
multiple hearth furnace,
air pollutants,
heavy metals,
stack emissions,
wet flue gas cleaning,
scrubber efficiency
Publication Date
December 31, 1997
Citation Information
Robert Oleniacz, Marian Mazur and Marek Bogacki. "Emisja metali ciężkich ze spalania odpadów niebezpiecznych"
Inżynieria Środowiska
Vol. 2 (1997)
Available at: http://works.bepress.com/robert_oleniacz/106/