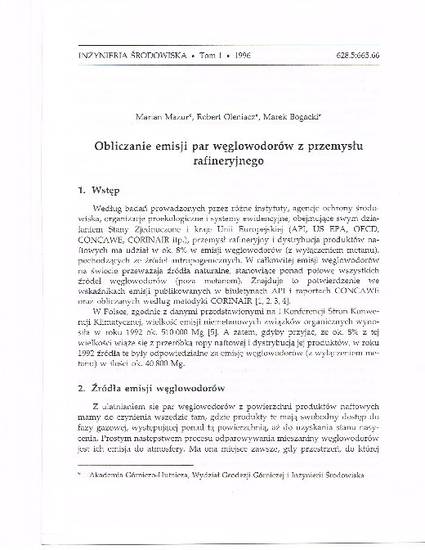 Article
Obliczanie emisji par węglowodorów z przemysłu rafineryjnego
Inżynieria Środowiska (1996)
Abstract
The negative effects of the refining industry for ambient air quality is mainly related to emissions of hydrocarbon vapors. Calculation methodology and estimates, the level of emissions from several years has been the research subject of many institutions and environmental agencies, including The Oil Companies' European association for health, safety and environment in refining and distribution (CONCAWE) and American Petroleum Institute (API).
The article describes the main sources of emissions of hydrocarbons occurring in a typical refinery. In summary form also shows how to calculate the volume of a mixture of hydrocarbons emissions from these sources based on empirically validated models, published in newsletters and reports by CONCAWE and API. This calculation methodology can also be applied in the conditions of Polish refineries.
English title: Calculation of evaporative emissions of hydrocarbons from refinery industry.
Keywords
refinery industry,
air pollutants,
air emission calculation,
uncontrolled emission,
petroleum products,
liquid fuels,
gasoline,
diesel oil,
storage and handling,
storage tanks,
fuel reloading,
evaporative emissions,
hydrocarbons
Publication Date
December 31, 1996
Citation Information
Marian Mazur, Robert Oleniacz and Marek Bogacki. "Obliczanie emisji par węglowodorów z przemysłu rafineryjnego"
Inżynieria Środowiska
Vol. 1 (1996)
Available at: http://works.bepress.com/robert_oleniacz/105/