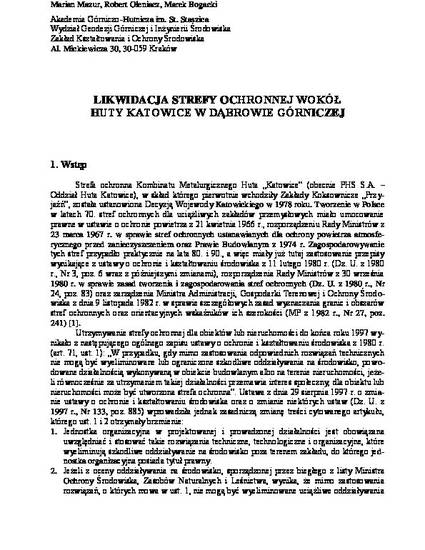 Presentation
Likwidacja strefy ochronnej wokół Huty Katowice w Dąbrowie Górniczej
Konferencja Naukowo-Techniczna "Ochrona środowiska w hutnictwie w przeddzień akcesji z Unią Europejską". PHS S.A. – Oddział Huta Katowice w Dąbrowie Górniczej, 5-6.06.2003 (2003)
Abstract
The paper presents the history of the creation, management and liquidation of the protective zone around the Katowice Steelworks and Coke "Przyjaźń" (originally belonging to the "Katowice Steelworks") in Dąbrowa Górnicza (Poland). This zone was created in 1978 on the basis of the air quality impact assessment performed for the steelworks on the assumption steel production capacity of 9 million tons/year and planned production of coke at 3.3 million tons/year. These production volumes have never been achieved. In the 80's and 90's of the 20th century were conducted studies and calculations aimed to verify the nuisance of these plants on the environment and reduce the size of the protective zone. The decision to liquidate most of the zone was taken by the Voivode of Silesia on 21 May 2002 on the basis of the opinion drawn up by an expert team of the Department of Environmental Management and Protection at AGH University of Science and Technology in Krakow, and the Centre for Research and Environmental Control in Katowice.
English title: Liquidation of the protective zone around the "Katowice" Steelworks in Dąbrowa Górnicza.
Keywords
iron and steel industry,
metallurgical industry,
Polish steelworks,
protective zone,
environmental policy,
air quality management
Publication Date
June 5, 2003
Citation Information
Marian Mazur, Robert Oleniacz and Marek Bogacki. "Likwidacja strefy ochronnej wokół Huty Katowice w Dąbrowie Górniczej"
Konferencja Naukowo-Techniczna "Ochrona środowiska w hutnictwie w przeddzień akcesji z Unią Europejską". PHS S.A. – Oddział Huta Katowice w Dąbrowie Górniczej, 5-6.06.2003
(2003)
Available at: http://works.bepress.com/robert_oleniacz/102/