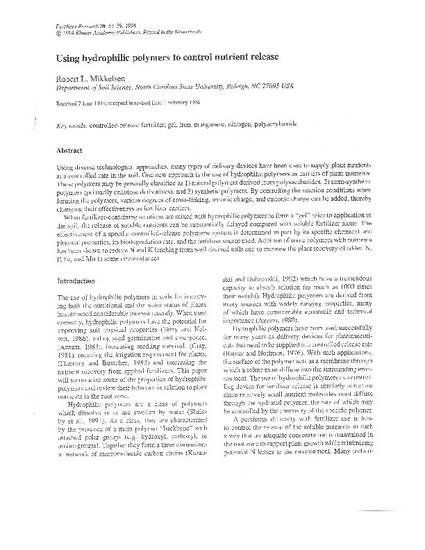 Article
Using hydrophilic polymers to control nutrient release
Fertilizer Research (1994)
Abstract
Using diverse technological approaches, many types of delivery devices have been used to supply plant nutrients at a controlled rate in the soil. One new approach is the use of hydrophilic polymers as carriers of plant nutrients. These polymers may be generally classified as 1) natural polymers derived from polysaccharides, 2) semi-synthetic polymers (primarily cellulose derivatives), and 3) synthetic polymers. By controlling the reaction conditions when forming the polymers, various degrees of cross-linking, anionic charge, and cationic charge can be added, thereby changing their effectiveness as fertilizer carriers. When fertilizer-containing solutions are mixed with hydrophilic polymers to form a "gel" prior to application in the soil, the release of soluble nutrients can be substantially delayed compared with soluble fertilizer alone. The effectiveness of a specific controlled-release polymeric system is determined in part by its specific chemical and physical properties, its biodegradation rate, and the fertilizer source used. Addition of some polymers with nutrients has been shown to reduce N and K leaching from well-drained soils and to increase the plant recovery of added N, P, Fe, and Mn in some circumstances.
Citation Information
Robert Mikkelsen. "Using hydrophilic polymers to control nutrient release"
Fertilizer Research
Vol. 38 (1994)
Available at: http://works.bepress.com/robert_mikkelsen/11/