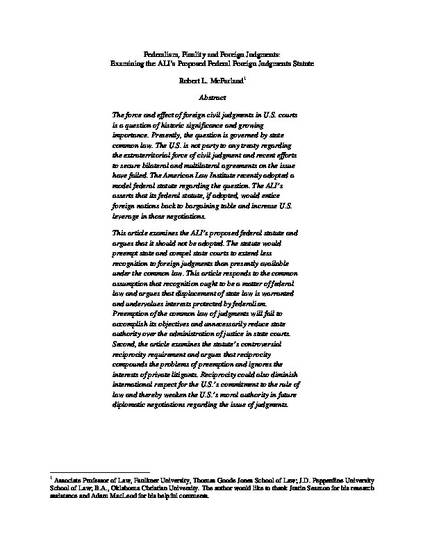 Unpublished Paper
Federalism, Finality and Foreign Judgments: Examining the ALI's Proposed Federal Foreign Judgments Statute
ExpressO (2010)
Abstract
The force and effect of foreign civil judgments in U.S. courts is a question of historic significance and growing importance. Presently, the question is governed by state common law. The U.S. is not party to any treaty regarding the extraterritorial force of civil judgment and recent efforts to secure bilateral and multilateral agreements on the issue have failed. The American Law Institute recently adopted a model federal statute regarding the question. The ALI's asserts that its federal statute, if adopted, would entice foreign nations back to bargaining table and increase U.S. leverage in those negotiations.
This article examines the ALI's proposed federal statute and argues that it should not be adopted. The statute would preempt state and compel state courts to extend less recognition to foreign judgments than presently available under the common law. This article responds to the common assumption that recognition ought to be a matter of federal law and argues that displacement of state law is warranted and undervalues interests protected by federalism. Preemption of the common law of judgments will fail to accomplish its objectives and unnecessarily reduce state authority over the administration of justice in state courts. Second, the article examines the statute's controversial reciprocity requirement and argues that reciprocity compounds the problems of preemption and ignores the interests of private litigants. Reciprocity could also diminish international respect for the U.S.'s commitment to the rule of law and thereby weaken the U.S.'s moral authority in future diplomatic negotiations regarding the issue of judgments.
Keywords
Foreign Judgments,
Res Judicata,
Reciprocity,
Federalism
Publication Date
March 26, 2010
Citation Information
Robert L. McFarland. "Federalism, Finality and Foreign Judgments: Examining the ALI's Proposed Federal Foreign Judgments Statute"
ExpressO
(2010)
Available at: http://works.bepress.com/robert_mcfarland/2/