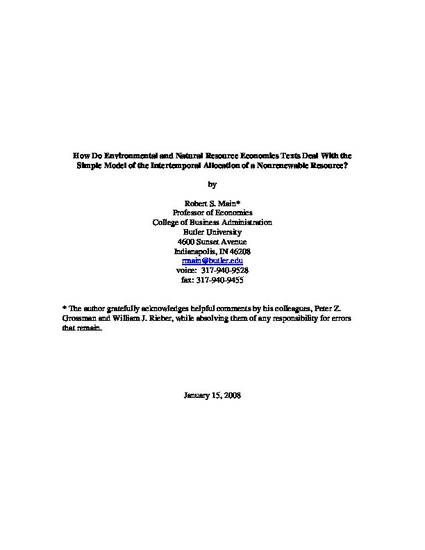 Unpublished Paper
How Do Environmental and Natural Resource Economics Texts Deal with the Simple Model of the Intertemporal Allocation of a Nonrenewable Resource
SSRN Working Paper
Publication Date
1-1-2008
DOI
http://dx.doi.org/10.2139/ssrn.1084142
Abstract
Textbooks in Environmental and Natural Resource Economics invariably deal with the problem of allocating a non-renewable resource over time. The simplest version of that problem is the case of a resource that is to be allocated over two periods. The resource has a constant Marginal Extraction Cost (MEC). Most textbooks treat this case before moving on to more complex and realistic cases. This paper suggests the results that should be emphasized and the method that should be used to arrive at those results. It also points out the possible confusions that should be avoided. Finally, it examines how several well-known textbooks treat this issue.
Rights
This is a copy of a working paper. Archived with permission. The author(s) reserves all rights.
Citation Information
Robert S. Main. "How Do Environmental and Natural Resource Economics Texts Deal with the Simple Model of the Intertemporal Allocation of a Nonrenewable Resource"
SSRN Working Paper
(2008) p. 1 - 14
Available at: http://works.bepress.com/robert_main/5/