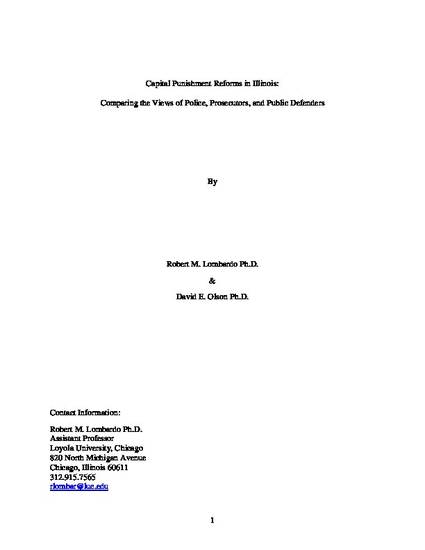 Article
Capital Punishment Reforms in Illinois: Comparing the Views of Police, Prosecutors, and Public Defenders
Social Justice
Abstract
Abstract Following a 2000 moratorium on executions, the Governor's Commission on Capital Punishment was created to study the use of the death penalty in Illinois. As a result of this effort, comprehensive legislation was enacted to reform the Illinois death penalty system. The Illinois legislature also created a Capital Punishment Reform Study Committee (CPRSC) to gauge the implementation and impact of the reforms. Working with the CPRSC, the authors' surveyed 413 Illinois police departments, 102 Illinois State's Attorneys Offices, and all 99 Public Defender's Offices in an effort to determine the extent to which criminal justice agencies have implemented the requirements of the capital punishment reform legislation, and whether there were any significant barriers to the implementation of the legislative requirements. This paper reports the results of this inquiry, and enumerates a number of areas were additional effort is needed.
Citation Information
Robert M Lombardo. "Capital Punishment Reforms in Illinois: Comparing the Views of Police, Prosecutors, and Public Defenders"
Available at: http://works.bepress.com/robert_lombardo/8/