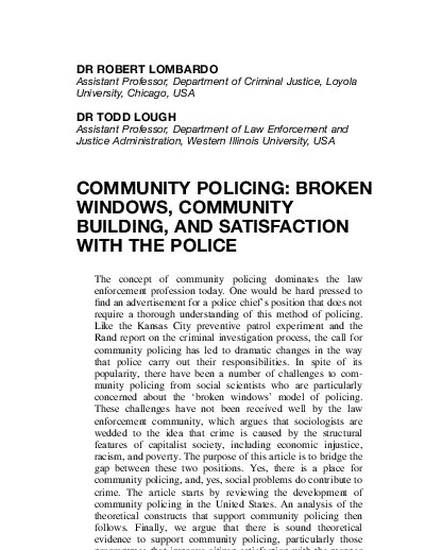 Article
Community Policing: Broken Windows, Community Building, and Satisfaction with the Police
Police Journal
Publication Date
6-1-2007
Abstract
The concept of community policing dominates the law enforcement profession today. One would be hard pressed to find an advertisement for a police chief's position that does not require a thorough understanding of this method of policing. Like the Kansas City preventive patrol experiment and the Rand report on the criminal investigation process, the call for community policing has led to dramatic changes in the way that police carry out their responsibilities. In spite of its popularity, there have been a number of challenges to community policing from social scientists who are particularly concerned about the 'broken windows' model of policing. These challenges have not been received well by the law enforcement community, which argues that sociologists are wedded to the idea that crime is caused by the structural features of capitalist society, including economic injustice, racism, and poverty. The purpose of this article is to bridge the gap between these two positions. Yes, there is a place for community policing, and, yes, social problems do contribute to crime. The article starts by reviewing the development of community policing in the United States. An analysis of the theoretical constructs that support community policing then follows. Finally, we argue that there is sound theoretical evidence to support community policing, particularly those programmes that improve citizen satisfaction with the manner in which police carry out their responsibilities.
Creative Commons License
Creative Commons Attribution-Noncommercial-No Derivative Works 3.0
Copyright Statement
© Vathek Publishing, 2007.
Citation Information
Lombardo, R., & Lough, T. (2007). Community Policing: Broken Windows, Community Building, and Satisfaction with the Police. Police Journal, 80(2), 117-140. http://dx.doi.org/10.1350/pojo.2007.80.2.117