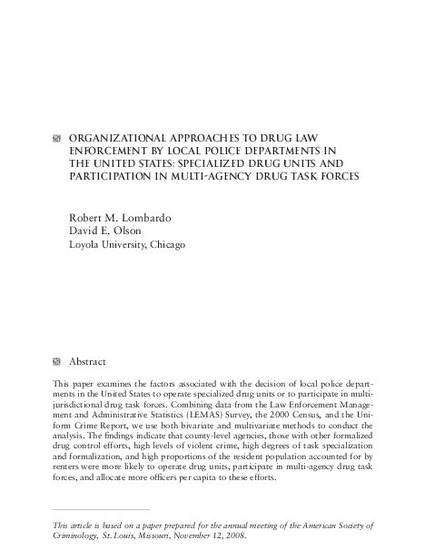 Article
Organizational Approaches to Drug Law Enforcement by Local Police Departments in the United States: Specialized Drug Units and Participation in Multi-Agency Drug Task Forces
Justice Research and Policy
Publication Date
1-1-2009
Abstract
This paper examines the factors associated with the decision of local police departments in the United States to operate specialized drug units or to participate in multi-jurisdictional drug task forces. Combining data from the Law Enforcement Management and Administrative Statistics (LEMAS) Survey, the 2000 Census, and the Uniform Crime Report, we use both bivariate and multivariate methods to conduct the analysis. The findings indicate that county-level agencies, those with other formalized drug control efforts, high levels of violent crime, high degrees of task specialization and formalization, and high proportions of the resident population accounted for by renters were more likely to operate drug units, participate in multi-agency drug task forces, and allocate more officers per capita to these efforts.
Creative Commons License
Creative Commons Attribution-Noncommercial-No Derivative Works 3.0
Copyright Statement
© 2009 Justice Research and Statistics Association, Inc.
Citation Information
Lombardo, RM, and David E. Olson. (2009). "Organizational Approaches to Drug Law Enforcement by Local Police Departments in the United States: Specialized Drug Units and Participation in Multi-Agency Drug Task Forces." Justice Research and Policy, Volume 11, 2009. Available at http://dx.doi.org/10.3818/JRP.11.2009.45