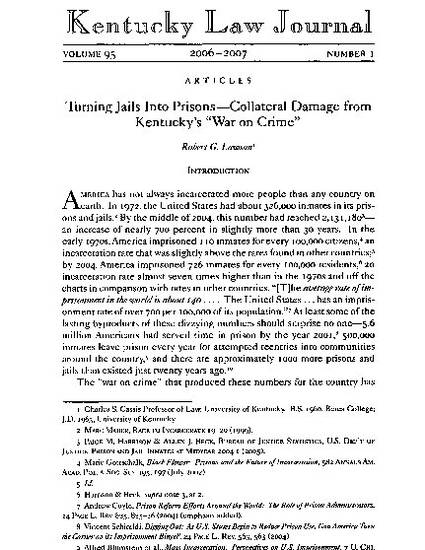 Article
Turning Jails into Prisons—Collateral Damage from Kentucky's War on Crime
Law Faculty Scholarly Articles
Abstract
The primary purpose of this article is to scrutinize Kentucky's ever-increasing reliance on local jails for the incarceration of state prisoners. This objective cannot be achieved without an examination of the problems that compel counties and cities to allow (and even encourage) the state to capture their jails for this use. The first half of the article (Parts I-IV) provides general information about jails (including some pertinent history), contains a detailed description of jail functions (including some that have descended upon jails by default), and concludes with a discussion of what the state has done over two decades to convert local jails into prisons. The second half of the article (Parts V-X) involves an unusual effort to look inside jails and prisons to determine the wisdom and potential implications of using local jails for long-term incarceration of inmates who would ordinarily serve their sentences in state prison.
Publication Date
1-1-2006
Citation Information
Robert G. Lawson,
Turning Jails into Prisons—Collateral Damage from Kentucky's War on Crime
, 95 Ky. L.J. 1 (2006-2007).