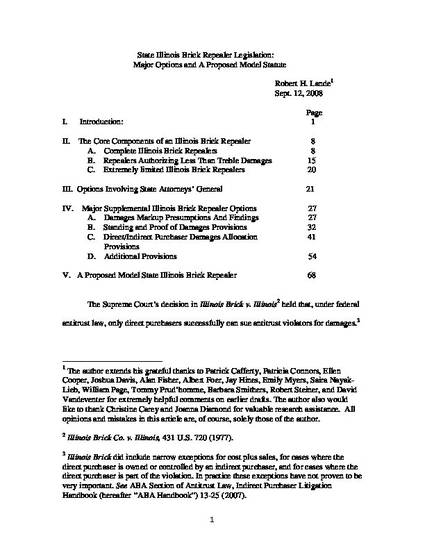 Unpublished Paper
State Illinois Brick Repealer Legislation: Major Options and a Proposed Model Statute
ExpressO (2008)
Abstract
The Supreme Court's 1977 Illinois Brick decision held that only direct purchasers successfully can sue for damages under federal antitrust law. Since this left most true victims of antitrust violations without an effective remedy, most states enacted Illinois Brick Repealers ("IBRs"), to give indirect purchasers the right to sue for damages when firms violate analogous state laws. Although many benefits would arise if national legislation overturned Illinois Brick, to date every attempt to achieve a comprehensive federal solution has failed. Because this thirty year stalemate is almost certain to continue, this article instead focused on reform at the state level, where reform is much more achievable. This article presents a large number of IBR options that address the spectrum of a state's potential needs, together with commentary giving the major effects, advantages and disadvantages of each. As its Conclusion, this article suggests its own Model State Illinois Brick Repealer legislation. ___________________________________________ Keywords: antitrust, Illinois Brick, damages, price fixing, cartel, consumers, indirect purchasers, direct purchasers, state antitrust.
Keywords
consumers,
indirect purchasers,
state antitrust laws
Citation Information
Robert H. Lande. "State Illinois Brick Repealer Legislation: Major Options and a Proposed Model Statute"
ExpressO
(2008)
Available at: http://works.bepress.com/robert_lande/1/